Digital
The Digital Participation Challenge Fund 1 ½ years on
March 14, 2016 by Scott McLear No Comments | Category Digital Participation, Digital Scotland
It's been 18 months since the launch of the first round of the Challenge Fund back in 2014. Since then 84 projects doing fantastic digital inclusion work in Scotland have been supported by funds from the Scottish Government, with some additional support from BT Scotland. As well as helping people to get online, these funds have enabled organisations to boost their organisational development and grow their business through the use of digital tools. To give you a snapshot of the success to date we have selected a few fantastic projects to share with you.
Queens Cross Housing Association (QCHA) Historical Connections project has been working with people in the Queens Cross area of Glasgow using local history as a 'hook' to encourage folk to take their first steps in the online world. QCHA are recording stories and photos via a WordPress website and using this to support the development of Basic Digital Skills, with the added bonus of promoting the work of QCHA and the project to a wider audience.
Digital Inclusion through Entrepreneurship
Flourish House have taken the innovative approach of helping their project participants to learn Basic Digital Skills through the medium of eBay! By using eBay fundraising activity as a vehicle for learning digital skills, Flourish House have simultaneously supported the development of these skills whilst broadening their online fundraising activity. Flourish House also partnered with Glasgow Kelvin College to deliver an IT Skills Course for project members.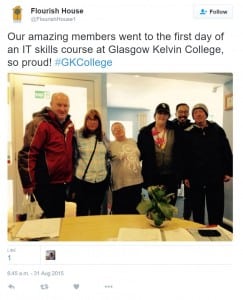 Getting IT
Midlothian Voluntary Action have been doing amazing work getting out and about to voluntary organisations across Midlothian, to help them support their clients, service users or members to get online. To date over 169 staff from 20 different organisations have received some form of digital inclusion training. This project is having a very positive effect not only on the organisations themselves but the many people they support.
Capability Scotland used their Challenge Fund grant to improve the accessibility of the IT suite in Upper Springland, one of their residential and day care services in Perth. The grant provided for specialised height adjustable computer desks which allowed for direct wheelchair access, and once these were in place the now fully accessible IT suite was promoted to the wider community. Since then it has been used by many more of Upper Springland's service users, making the project a big success. Here is a lovely video highlighting the benefits of the new set-up.
Rebecca Stafford, Team Support Officer at SCVO, is responsible for supporting SCVO's Digital team in the implementation of their digital participation programme in Scotland, and in particular the development of the Challenge Fund.
Get in touch
We'll be sharing updates on this, and much more on social, so follow the team via @digitalscots for more updates. Want to comment? Get in touch below!
Comments