Digital
Putting people at the heart of Digital Public Services
May 12, 2016 by Scott McLear 1 Comment | Category Digital First, mygov.scot
The Digital First Service Standard sets the standard for all online services, which are to be provided via mygov.scot. It's based along the lines of Government Digital Service's Digital by Default but includes three extra principles around the use of open data principles, green ICT and data hosting.
By applying the Digital First Service Standard, we're aiming to create services which are so good, people choose digital first. We want to create services which are fast, efficient and built around users. A Digital First assessment process will help us to track how that goal is being met.
Over the last month or so, we've been hard at work coming up with an outline of how we want to assess new services. Our starting point was to look at examples of assessment processes from elsewhere and see what we can learn from their experiences. What we've found out has helped to shape our understanding of how our own assessment process could work. 
Learning at home 
We recently visited GDS to watch a Digital by Default service assessment in practice. The assessment was of a service at alpha stage; GDS run assessments at three points in the service development cycle: end of alpha, pre-public beta and pre-live. Each assessment gives GDS a new opportunity to check services are meeting the standard and whether they can, and should, pass to the next stage. 
As well as seeing an assessment from start to finish and gaining an insight into the types of evidence GDS assessors are looking for, we also got a chance to ask questions on the ins and outs of the process from the assurance team and the assessors. These included: 
• What's the average time commitment for assessors?
• How did you arrive at the thresholds for what services GDS will assess?
• Have you assessed services being provided by organisations in the wider public sector?
These are all questions which pose unique challenges for us in the smaller Scottish setting, so it was useful to learn how GDS has dealt with these issues in the larger UKG context. 
Learning from further afield 
But we're not just learning from GDS. It's been interesting to watch (from afar!) the approach of the Australian Government's Digital Transformation Office to service assessments.  
Although initially using a GDS–style model for assessments, DTO has moved to an approach which focuses more on regular 'check-ins' than traditional assessments. This helps to ensure there are no 'deal-breakers' when a service reaches assessment, as recommendations are made 'in-flight' when the team is able to respond and action change. The new approach focuses on collaboration between teams and assessors, working together to create a better service, which, after all, is what assessments are all about.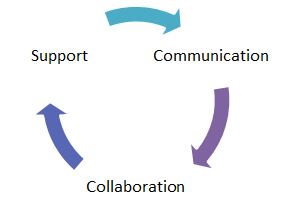 What about us? 
We're still developing a model that will work best for the Scottish public sector. However, there are some things we do know:
• We don't want the Digital First assessment process to be a burden for organisations, who already have a long string of assurance processes to go through.
• We want the process to be helpful and we're planning to build our service around access to a resource offering collaboration, advice and support for teams throughout the process. Ideally we'd like to hear from service delivery teams before they even begin discovery so we can link them up with any resources or assistance they need. It's crucial, if we want to have efficient, sustainable and user-focussed services, that we work together to ensure services are the best they can be.
• We want the process to still be an assessment process – services either meet the standard or they don't. We'll work together to help ensure services meet the standard in advance of assessment, and work together afterwards to address any concerns raised by assessors. However, the process must give teams a clear target to aim for, and a clear result at the end of the assessment.
Where does that leave us? Probably somewhere in the middle of the approaches we've looked at (with a slight nudge in the direction of the DTO's approach). 
Over the next few months, we'll be designing and testing our process to ensure it's as effective and as helpful as it can be. We'll be publishing more detail on the process, and examples of where standards have helped produce efficient services, over the next short while.  
We'll be looking for candidates for assessment and volunteer assessors too so please feel to get in touch if you'd like to know more via deu@gov.scot. If you do any of the following, and you're interesting in becoming an assessor, we really want to hear from you:
• Technical Architect
• Developer
• Designer
• Content Designer
• Assisted Digital
• User Researcher, and
• Analyst.
Get in touch
We'll be sharing updates on this, and much more on social, so follow the team via @digitalscots for more updates. Want to comment? Get in touch below!
Comments