Digital
We've just started: diversity unconference follow up
March 23, 2017 by laurnarobertson 2 Comments
Thanks to everyone who attended the unconference yesterday (22nd March 2017) and to all of you who engaged with the Twitter conversations at #scotdigidiversity. There were some fascinating discussions on the 5 topics that attendees voted for (see photo below) but there were also a great range of topics that narrowly missed out.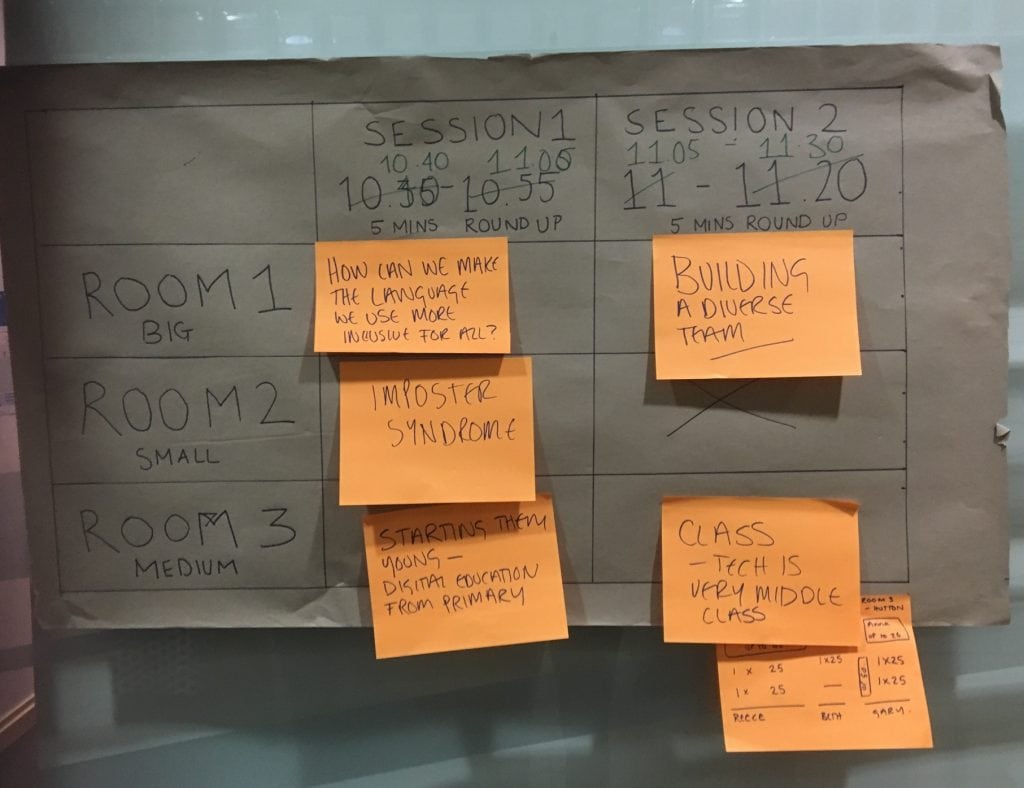 We will be sorting through the post its at the start of next week and will aim to publish some key themes, potential issues and actions for the community to consider. We'll also publish our thoughts on what worked and what didn't for the next event. If you've not fed back your thoughts to us, you can email laurna.robertson@gov.scot or get in touch via the twitter hashtag #scotdigidiversity.
Videos of attendees
We managed to film some quick interviews with attendees after the event and we've now published them. You can find the videos on our video wall.
Thanks to all those who took part.
Community space
We heard loud and clear from you yesterday that you want a community space to continue the conversations that were started and to figure out the next steps together. The team behind the unconference put our heads together this morning and came up with 3 potential options:
a slack group
a Facebook group
a Linkedin group
Let us know which one you'd prefer on this Google Form or suggest something else if you can think of a better space for the community.
We will be sending an invite to this community to everyone who attended the event and those who wanted to but couldn't make it. If you don't want to be included in this, let us know and we'll remove your name from the list. Likewise if you want to be included, email laurna.robertson@gov.scot
Diversity statistics for the Scottish Government's Digital Directorate
Yesterday in the conclusion of the diversity unconference, the Scottish Government's Digital Director Colin Cook released the diversity data for the Digital Directorate. Here it is in full (the gaps are where there are people in groups with less than 10 – we can't release this data because it could mean that people risk being identified):
Gender
This compares to 51% of the Scottish Government's workforce being female.
Disability
81.5% not disabled
17.0% disabled
1.5% prefer not to say
Ethnicity
84.2% white
12.3% unknown
Sexual orientation
3.8% Gay, Lesbian, Bisexual and other sexual orientations
60.4% hetrosexual/straight
2.9% prefer not to say
32.9% unknown
We would encourage you to push for your organisation to do the same. This gives your organisation a clear, public benchmark and will help identify where you need to target your efforts to become more diverse. As part of the Scottish Government's Digital Strategy, all central government bodies will need to gather and publish digital workforce diversity data annually. But wouldn't it be great if all organisations in Scotland did the same.
Comments