Digital
Increasing diversity in the digital profession
July 12, 2018 by Stewart Hamilton No Comments | Category Uncategorized
A post by Colin Cook, Director Digital, Scottish Government.
Over the past year, the division heads and I have been looking at ways that we can improve diversity within the digital directorate. Alan Rodden has been appointed to lead delivery and last month we published the Digital Directorate's commitment to improving workforce diversity. This explains why we believe that increasing diversity and improving inclusion in the Directorate is so important and sets out how this directorate compares in terms of its diversity to the wider Scottish Government workforce and the Scottish population overall. This baseline provides a means of tracking our contribution to ensuring the Scottish Government's workforce reflects the general Scottish population by 2025.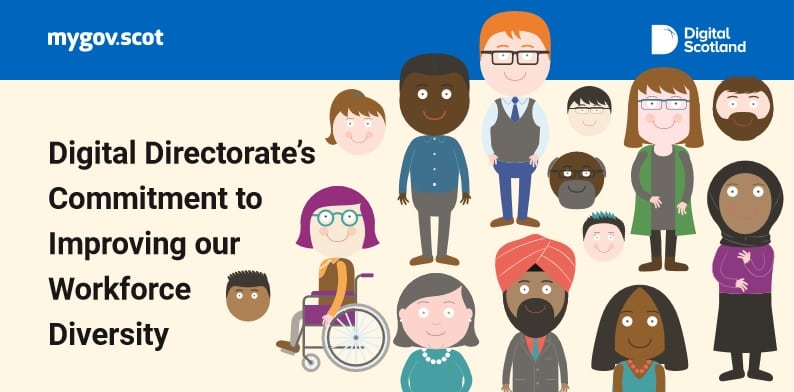 What we're doing
Key initial priorities for us are to encourage more women into digital roles and ensure that people with disabilities are able to contribute to our work. Scottish Government has signed the Tech Talent Charter to support us in this endeavour and specific objectives are being led by members of my team. Earlier this month we achieved the first of these, by publishing the new National Performance Framework which incorporates the United Nations Sustainable Development Goal of Gender Equality throughout the different aspects of the framework.
Over the next year, we will be looking at ways in which we can increase the gender and diversity mix of candidates applying and being successful for key digital roles such as cyber security and the delivery of transformation projects. We will also undertake a research project on "Experiences of Design Professionals with Disabilities" that will investigate how our methods can be made more accessible for both design professionals and citizens participating in our projects.
Improving access and inclusion
At the same time, we are embedding the Digital, Data and Technology (DDaT) profession in government. The introduction of DDaT brings greater consistency to the digital roles we can offer with clearly defined career paths and better description of the skills required to do these roles. Hopefully this will make it easier to promote our opportunities in ways that make digital into a more open, accessible and attractive career choice.
Help us reach under-represented groups
Our policy on diversity and inclusion is led by the Digital Talent and Development Team. The team are looking for opportunities where colleagues can take part in outreach activities with under-represented groups to promote digital jobs and discuss their personal challenges, successes and career aspirations. Equality and Diversity organisations who want to support this work should contact Alan Rodden in the team by email to dtadteam@gov.scot.
Tags: scottish government digital diversity
Comments