Digital
Champions in action: my reflections by Dean Rhodes
June 18, 2019 by Enoch Kabalo No Comments | Category Digital Scotland, Uncategorized
It's hard to believe it's June, but here we are. We're officially at the halfway point of 2019 and in this month's blog, our Agile coach Dean Rhodes takes the centre stage. In this blog Dean highlights his experience attending the Scottish Digital Champions programme, the lessons learned and the interesting ways they are linked to the work being done within the Scottish Digital Academy.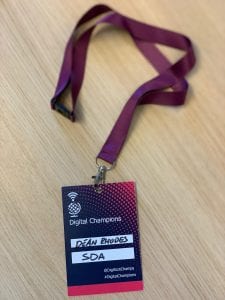 I was invited along to Cohorts 11 and 12 of the Scottish Government Digital Champions to see what they do and to spread the word about Agile and what the Scottish Digital Academy can offer the public sector in Scotland.
Our Digital Champions are leaders from across Scotland brought together to help them provide leadership in everything digital, to make a difference in the way we serve our citizens and to raise awareness of working in a digital way across the organisations they lead.
First up was some fascinating and, frankly, scary talks from Keith McDevitt, who has worked on cyber-crime for the Police and Scottish Government, describing the rapidly evolving Cyber threat faced by a digitally transforming world exploring the exploitation of its users and system and the steps taken in Scotland to respond to this challenge. It was really interesting to hear how we are all vulnerable to the threats posed by the internet in particular criminals but also how important it is to be able to mitigate those risks.
Keith was accompanied by Moe Keir from Scottish Business Resilience Centre, Moe being an ethical hacker helping to identify and fix areas where it might be easier for criminals to exploit our vulnerabilities. The biggest takeaway for me was that security is a process not a product. You can't expect security to be a one fix stop, we have to think about and evolve the way we think about security online all the time. One really useful point was to make sure you use strong passwords at all time and regularly check whether anyone has stolen your details!
Secondly there was a brilliant talk about Digital Anthropology from Dr. Caitlin McDonald from Leading Edge Foundation. So, what is Digital Anthropology? Well, according to Caitlin it helps leaders and teams to step out of their vision of 'normal', suspend judgement and consider things from many different perspectives.
Digital Anthropology also helps us gather insights about how we work together and how much we are all connected, not just in the digital landscape but culturally, economically and across our working lives. Digital Anthropology is an attempt to boost empathy with our citizens to think about old problems differently and really enhance the power of big data and it really helps to understand the complexity inherent in the services we provide.
It really struck me how this approach resonates with what we are trying to do with the Scottish Digital Academy too – getting leaders and teams to consider different ways of working using agile principles, understanding how complexity affects the way we build services and putting our citizens at the heart of everything we do making sure we only build stuff that there is a need for. Agile is all about challenging accepted and established practices, about getting people to think and work differently and about maximising those opportunities to work together, with citizens and across organisations, to solve problems.
It was a fabulous couple of days with two highly engaged cohorts of leaders. Scotland is in a pretty good place with these people taking the lead on Digital. Right, I'm off to check if I've been pwned!
Follow the Scottish Digital Champions on Twitter: @DigiScotChamps
Comments