Digital
Online behaviour during lockdown
June 29, 2020 by Stewart Hamilton No Comments | Category Data, Digital Scotland
Blog by Hazel Cargill, Digital Analyst, Digital Transformation Division.
'Unprecedented' may be the word of 2020. We keep hearing we are living in unprecedented times, with unprecedented demands on ourselves, as individuals, as family members, and as citizens in our communities.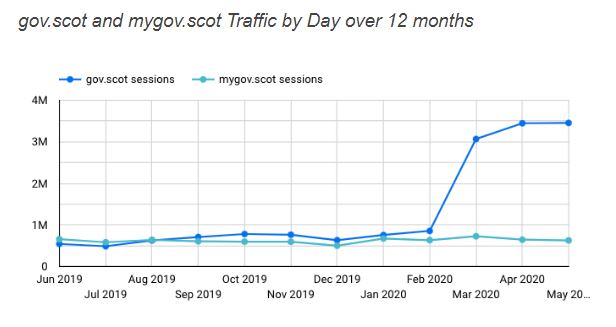 Demand on our Scottish Government websites could also be described as unprecedented, with more than 3.7m users visiting gov.scot and 1.1m visiting mygov.scot in the 9 weeks between the start of lockdown and the beginning of June. In recent weeks gov.scot and mygov.scot have often received more traffic in one day than we used to see in an average week of 2019.
Our web analytics offer powerful insights into the changing needs of Scottish citizens during lockdown and the Covid-19 epidemic, and ensuring we meet those needs is more important than ever. Here are some of the trends we have seen since the beginning of lockdown on 23rd March 2020.
Key publications and guidance.
Traffic to the websites spikes when key publications go live, particularly if they are mentioned by the First Minister in the daily press briefing. Our engineering team works hard to load balance gov.scot and it helps when they're given advance warning ahead of these big information releases. Interestingly, the site saw noticeable drops in traffic when the Clap for Carers event was happening on Thursday nights. Content teams monitor volume data to help prioritise what content to review and update more regularly. For example the business support information for non-domestic rate payers on mygov.scot went through (and continues to go through) multiple revisions because this receives thousands of views per day.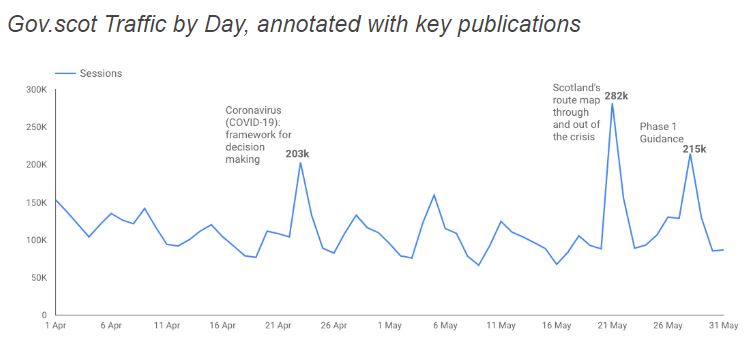 Returning users
More people are returning to our websites during the Covid-19 epidemic – 25% of users have returned to gov.scot more than once since the beginning of lockdown. The additional return visits are due to the publication of daily Covid-19 figures which many people check daily, as well as to check key publications for guidance and information on the route out of lockdown. As public awareness of Scottish Government websites grows, people become more likely to come to us first, rather than Google, particularly when seeking Scotland specific guidance. 23% of visits to gov.scot came to the site directly rather than via a search engine, social media, or other website.
Searching
Since the beginning of lockdown the number of visitors using the internal search feature on our sites has increased by 40% on gov.scot and and 26% on mygov.scot. Internal searches give us an indication of the topics which users may be struggling to find elsewhere on the web. They also increase when experienced users are looking for recently published content. We check we are using the same terminology as our users when writing content to make sure they find what they are looking for. This started with including both "coronavirus" and "covid-19" terms in our key content as early analysis showed users were searching for both. The top search themes over the last 9 weeks have been:
Roadmap
Shielding
Construction
Testing
Self Employed
Lockdown
Furlough
Key workers
PPE
Grants
Information for the public about different coronavirus topics is spread across government, health and third sector sites. This can be confusing for people so it's really important that the purpose of information on different sites is clear and the connections between them well signposted, so people can find what they need when they need it. Analytical data provides useful evidence to support these discussions on site proposition and content alignment.
User Feedback
At the bottom of every page on our websites, we ask the question 'Was this helpful?'. Since 23rd March 56k users left feedback, a 325% increase on the previous period. Feedback is currently 83% positive, but our content teams carefully monitor negative feedback, as these comments can provide key areas for improvement (sometimes as simple as a resource on another website having moved URL and causing a broken link, sometimes a user pointing out an area where the content is unclear). At the beginning of the outbreak we reviewed search term analysis and feedback to identify pages users were visiting more and raising concerns connected with coronavirus we hadn't considered or weren't aware would be impacted by the pandemic. It meant we could be proactive in reaching out to policy teams about the interest in their pages. For example, reviewing content on the education maintenance allowance payments and understanding what school closures would mean for meeting the qualifying attendance criteria.
Demographics
We only collect limited demographic information about our users due to the way our analytics data is anonymised. From the data that we do get, and from our user research, we know that people from different demographic backgrounds can have different user needs. – we found on mygov.scot that people browsing the web in a language other than English were twice as likely to view crisis grants.
Actively monitoring these trends presents opportunities to provide the best information we can, and constantly improve our offering. Website analytics form part of our user centred design approach, and inform research and content design to make sure the information we provide is clear, accessible and timely.
Our data is open, and we are happy to share our insights with others both inside and outside Scottish Government. We publish monthly web statistics at https://www.gov.scot/publications/website-analytics/pages/gov-scot/. Please get in touch at performance@gov.scot if you would like to chat with us.
Comments