Digital
User research in a changing world
June 23, 2020 by Stewart Hamilton No Comments | Category Digital, Digital Participation, Digital Public Services, Digital Transformation Service
Nicola Hancock, blogs about her experience of being a User Researcher in a changing world.
What I do (or did?)
My role as a User Researcher is to involve people who use a service to understand what they need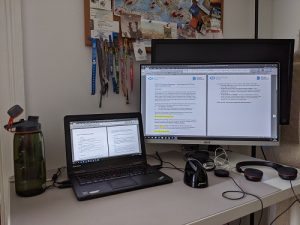 from it. We do this in a number of ways, like interviews, surveys, workshops and user testing. We work with a team who are delivering the service to develop the solution. Our job is to ensure the users' perspective is embedded into the design of a service or policy.
So, what's changed?
Often, we travel around the country to speak to the people we need to reach, especially those who are particularly excluded, whether that's due to digital constraints, disadvantages, location, low desire to engage with the government and more. We obviously can't travel as freely any more or see people face-to-face.
Luckily, that doesn't impact our ability to get valuable insight from people, but we have had to think really carefully about our approach to projects and how we can involve users remotely:
Only conducting primary research when we know there's a gap. Spending more time exploring whether this research has been done before or if somebody else is already doing it – opening up conversations with those who are doing this to prevent repeated research and depleting those who are sharing with us.
Considering the ethical implications of speaking to or asking someone for their time to take part in research. For example, is it right to take up the time of front-line healthcare providers at this time? Or can we speak to people who understand those problems but are perhaps a step removed.
Relying on oldies but goodies, such as a classic phone interview. It can be tricky when you can't see someone, there's a delay or background noise, but it's been our main methodology for primary research so far.
Sizing up the digital tools available to do remote usability testing or research where you need to show users something and get their feedback on it. There are definitely more technical hurdles than a phone interview, which does mean limitations on who you speak to, but it is possible if you're organised and patient.
Experience on projects so far
Normally, I work in a Digital Transformation team working with colleagues across the public sector to understand their users and their needs to ensure services are designed with and for the people that use them. Since the start of lockdown, there's been quite a shift in focus to COVID-19 response related projects, putting users at the heart of these responses and making sure citizens are getting what they need from the support services being delivered in the emergency.
Support services for citizens who are shielding
The current project I'm working on is with a new policy team, looking to improve and develop services for people in Scotland who are shielding because they have a higher risk of serious illness if they contracted coronavirus. This work is ongoing and has been really interesting, and challenging.
We recently wrapped up the first phase of research. We conducted desk research and around 40 depth interviews with people who are shielding and organisations supporting those needing to shield, to get a better understanding of their lived experiences to support changes to policy moving forward.
Working remotely brings some interesting challenges, not least around coordinating 5 user researchers, phone lines, note-takers, finding participants, keeping track of who we'd spoken to and trying to plug in any gaps.
Highlights
The most exciting thing has been preparing a briefing paper for the First Minister on emerging insight (while in the middle of research). User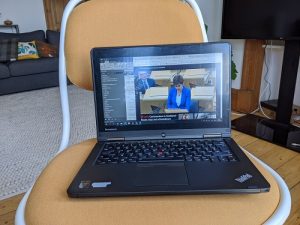 -centred Design is key to the future policy being developed. Where it says on the route map that advice is being updated based on what matters to the people who are shielding, that's informed by our work with users.
Overall, this sort of work and the sense of purpose is the thing that's really keeping me going at the moment. I'm really privileged to be given the opportunity to work on some tough problems with a great team and hopefully the outcome is a better experience for citizens having a particularly challenging time.
Tags: government, research, scottish, user
Comments