Digital
Scottish Digital Academy – Adult Learners Week 2020
September 9, 2020 by Stewart Hamilton No Comments | Category Scottish Digital Academy
Blog by Enoch Kabalo, Assistant Business Manager and Joyce Dalgleish, Associate Agile Coach – Scottish Digital Academy.
As this is Adult Learners Week, it seemed like the perfect opportunity to reflect and share what we do and what is happening in the Scottish Digital Academy to support learning and development.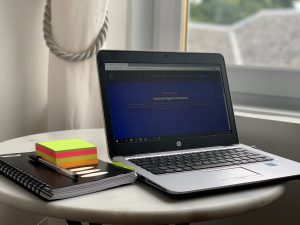 Here at the Scottish Digital Academy, which is based in the Scottish Government's Digital Directorate, we pride ourselves on providing high quality learning accessible to all Scottish public and third sector organisations. Building skills in the public sector has never been more important. Our aim is to support organisations with the transformation of services, by equipping people with the digital skills required to build the services our citizens need.
Our learners come from a wide range of organisations which have included Police Scotland, Scottish Public Pensions Agency, National Records of Scotland and Student Loans Company; and local authorities such as West Lothian Council, East Renfrewshire Council, West Dunbartonshire Council and more.
On our courses we have welcomed learners from all stages of their careers, from those in their first role, to those in senior leadership positions and we are pleased to be able to offer a range of opportunities for all. We also see a wide range of knowledge, from delegates who are already delivering transformation projects and want to build their skills, to those with no previous experience and are curious to find out more.
It's often said that we learn something new every day and that was never truer than when Covid-19 struck. Our team had to adapt quickly to a new way of working and to be able to meet our already busy programme of training events for 2020. Agile working was key to a successful transition.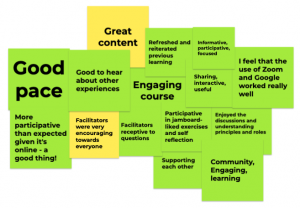 Classroom training was no longer possible, therefore our coaches had to re-create our interactive courses for online delivery, learn new tools for video conferencing and our much loved Post-it notes and Sharpies are now consigned to old ways of working, replaced by digital whiteboards. And it wasn't just for our coaches that things changed for, our operations team took on a new online booking system which helped them to manage courses registrations remotely.
And things keep on changing for us.
This experience has given the Academy team pause to consider what learning might look like in the future and with that in mind, we are excited to share that we have put a challenge forward for CivTech 5.0, how can digital help invent the future of immersive learning? Our goal with this challenge is to find a company to help us reimagine the future of world class learning. This has the potential not just to benefit learners in the Scottish public and third sector, but also schools, businesses, universities and communities.
So Adult Learners Week may only be one week a year for most people, but for us in the Academy every week is our learners' week.
Tags: academy, adult, CivTech, digital, learners, scottish, training
Comments