Digital
The life of Digital Scotland Superfast Broadband (DSSB)
September 10, 2020 by Stewart Hamilton 5 Comments | Category Digital Scotland, Digital Scotland Superfast Broadband
Blog by Fiona Smith, Head of Communications, Digital Scotland Superfast Broadband.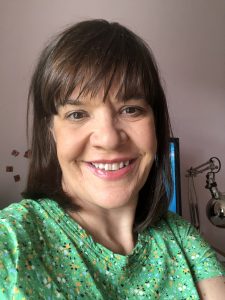 "Fiona, how can you not know where Dumfries and Galloway is!?" That is what my geography teacher asked in sheer disbelief in the early 90s.
That memory came back to me, as I organised what will be one of the last photo calls and events of the Digital Scotland Superfast Broadband (DSSB) programme. Featuring Paul Wheelhouse MSP, Minister for Energy, Connectivity and the Islands in a small hamlet in none other than Dumfries and Galloway!
I'm immensely proud to have been part of the DSSB team, which sits within the Scottish Government's, Digital Directorate. When the £463 million DSSB programme first started deployment back in 2014, only around 66% of Scotland was set to have access and as little as 25% in many of our rural areas likely to get fibre broadband. Today 97.3% can connect to a fibre based broadband service and the programme has connected over 950,000 homes and businesses, and laid enough cable to go to the South Pole. Many of these properties are in rural areas that otherwise would not have had fibre broadband had it not been for our programme.
As Head of Communications on the DSSB programme one of my main roles has been to get the message out to the public in the press, media and social media that fibre broadband is available to them, as well as liaising with colleagues in the Demand Stimulation team to encourage take-up. Thanks to the hard work of the communication and demand stimulation team, take-up now sits at over 67%.
Over the last six and half years, the programme has deployed across Scotland and we've had countless photo calls and attended a wide variety of different events. We've deployed as far north as North Roe in Shetland and as far south as Paxton in the Scottish Borders. I've got a creative mind, and a certain determination, and always liked to ensure we let everyone locally know that they can get fibre broadband and how to sign up and enjoy the benefits it brings.
To help celebrate cabinets going live we've had local school children, businesses, authors, AC/DC tribute bands, 'Rob Roy', RNLI Lifeboat crews, farmers, and even members of the Scotland rugby team unveil cabinets. There's been various hand-made signs (my garden table is now marked for eternity) celebrating a variety of milestones and golden balloons as well.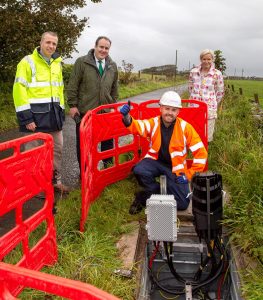 Another memorable photo call that springs to mind was turning up to a photo call in a Lanarkshire town to find the local youths had 'tagged' the cabinet with some explicit graffiti not suitable for family viewing (that launch was hastily moved!).
The programme, one of the largest infrastructure programmes in Europe, has also picked up a number of prestige awards including category nominations in the European Broadband Awards and the Civil Services Awards.
Over the next few months, the DSSB programme will be drawing to an official close having reached 97.3 % fibre coverage. The £600M, R100 programme will be picking up the very remote and rural areas that DSSB didn't manage to get to and ensure through time that everyone in Scotland has access to a superfast service.
Thankfully due to my time on the programme, my knowledge of Scottish towns and villages has improved since my schools days – my old geography teacher would be most impressed!
Find out more about getting connected at: www.scotlandsuperfast.com
Tags: broadband, digital, scotland, superfast
Comments