Digital
CivTech 6 – Challenge 12 update
November 24, 2021 by Stewart Hamilton No Comments | Category CivTech, Data, Digital Scotland
Hi, my name is Shona Nicol, and I head up a team in the Scottish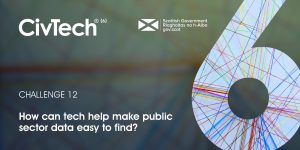 Government's, Digital Directorate, that covers technical data policy and I'd like to give everyone an update on a CivTech Challenge that I'm sponsoring along with NatureScot and the Data and Intelligence Network.
I have spoken about this project in a previous blog, finding public sector data, but I wanted to give an update and to ask for some help.
The aim of the Challenge is to help people find data using simple search terms without needing to know the specific name of the data, who owns it and where it might be published. Hopefully, reducing the amount of time people spending trying to find the data and aid the decision making on a number of emergencies that Scotland is currently facing – from Covid; Biodiversity Crisis; Climate Emergency – we're start with tackling how to find data that relates to either Health or the Environment, but that's just the beginning. In time we would like to see the solution help people find a broad range of publically available public sector data. If you'd like to know more about the challenge please take a look here – CivTech 6 – Challenge 12.
We are now in the CivTech Accelerator Stage and a company called DTime are working with us to develop a prototype tool for CivTech Demo week in February 2022. The prototype will allow data users to search for and discover public sector open data but it will also provide data owners with feedback on what users are searching for and if they are finding data relevant to this.
To help with the prototype DTime would like to learn more about the challenges that you are facing while trying to find data or while making data accessible to others.
If you're interested in improving data discoverability this is your opportunity to help by giving up just a few minutes to complete this survey linked here – Help us develop a Data Discovery Tool.
Tags: challenge, CivTech 6, Data, finding, public, Sector, update
Comments