Marine Scotland
OSPAR's IA2017 – What is it?
June 30, 2017 by Marine Scotland Communications No Comments | Category Collaborations, Marine Scotland general, Marine Scotland Science, Marine Scotland Surveys
The OSPAR Intermediate Assessment 2017 (or IA2017K) is an assessment of the marine environment of the North-East Atlantic and its current status. It's not the first time they've done this – its previous holistic assessment, the QSR 2010, was a culmination of ten years of joint assessment and monitoring by OSPAR Contracting Parties and seven years on, with the benefit of significant developments in monitoring and assessment methodology, the IA 2017 provides an update on the 2010 assessment as well as presenting some new indicators and assessment methodology.
But who are OSPAR? OSPAR are a collection of Governments and the European Union who are working together to improve the marine environment. It began in 1972 with the Oslo Convention against dumping and was broadened to cover land-based sources and the offshore industry by the Paris Convention of 1974. The two conventions were unified, updated and extended to form the 1992 OSPAR Convention (OSPAR is so named because of the original Oslo and Paris Conventions ("OS" for Oslo and "PAR" for Paris).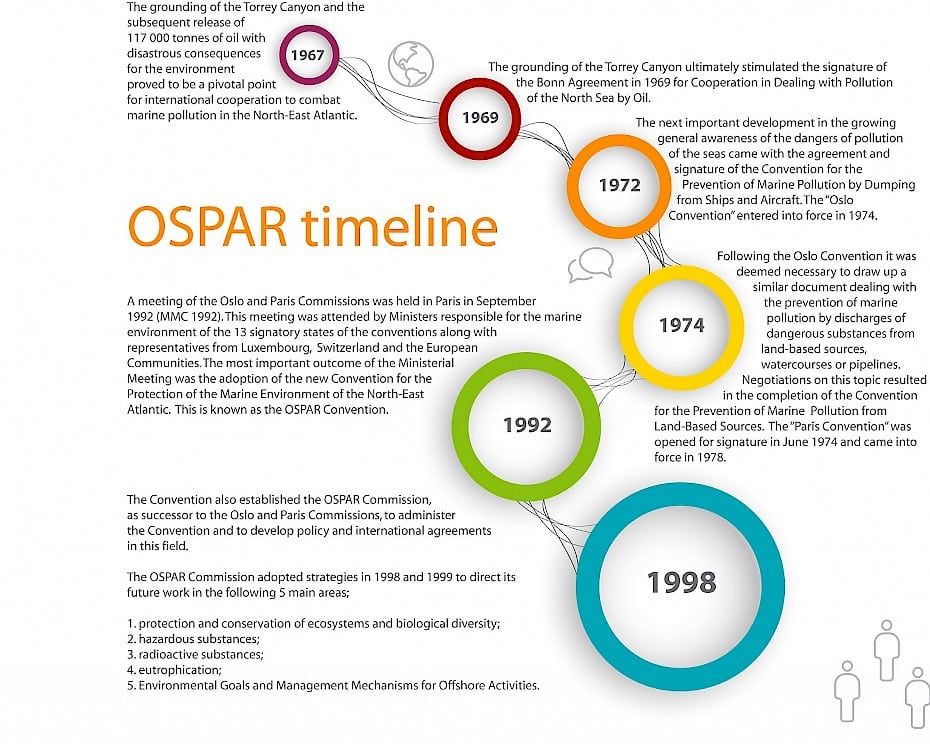 The 15 Governments who have signed and ratified the Convention are Belgium, Denmark, Finland, France, Germany, Iceland, Ireland, the Netherlands, Norway, Portugal, Spain, Sweden and the United Kingdom of Great Britain and Northern Ireland, along with Luxembourg and Switzerland. Marine Scotland, along with the Department for Environment Food & Rural Affairs (DEFRA), The Joint Nature Conservation Committee (JNCC), the Scottish Environment Protection Agency (SEPA) and all the other members of the UK Marine Monitoring and Assessment Strategy Evidence Groups are all involved in the UK input.
Although their work covers many areas, the recently agreed Intermediate Assessment covers the North-East Atlantic and over the coming weeks, we'll be highlighting the 12 key findings from the assessment, linking it to some information and reading that you might find interesting.
Tags: Cefas, Defra, environment, JNCC, north east atlantic, OSPAR, SEPA
Comments