Marine Scotland
Surveying the High Fleet – Update
July 28, 2017 by Marine Scotland Communications 2 Comments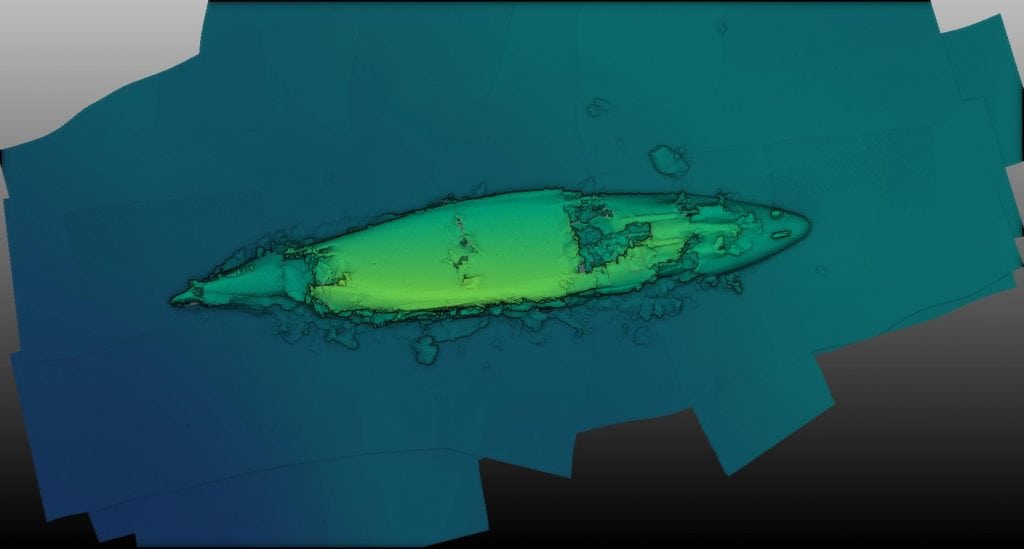 We blogged yesterday about the survey currently being undertaken on the German High Fleet in Scapa Flow. One of our scientists on board has sent us this update:
This survey is working in conjunction with Historic Environment Scotland (HES), The Ministry of Defence (MOD), The University of the Highlands and Islands (UHI), Ulster University and other partners to survey the remains of wrecks around Orkney. To date, the survey has been going well with multibeam surveys completed on HMS Vanguard, HMS Hampshire and the German High Seas fleet (7 wrecks). ROV operations have also been undertaken on HMS Vanguard, HMS Hampshire and HMS Royal Oak.
We were unable to operate the multibeam from MRV Scotia over this last wreck as the hull extends to 4m below the surface. The image above is a partially processed multibeam image of the SMS Markgraf in Scapa Flow. The vessel was a Konig class battleship (146m) and part of the German High Seas fleet scuttled in 1919. The attached image is a 3D model which can be manipulated and turned to view incredible detail, and begin to measure any physical degradation against previous surveys last completed 10 years ago.
As with all surveys we have had to adapt our plans on a regular, if not hourly basis, to combat technical difficulties and working live with the data we are collecting. This has proved challenging for MS engineers along with Seatronics ROV operators, and intricate, close navigational skills from the Scotia master and crew.
We are now heading to multibeam (for the first time) HMS Pheasant, west of Hoy.
Tags: High Fleet, historical, Scapa flow, warship, wreck
Comments