Marine
IA2017 – Radioactive discharges from the nuclear sector have decreased
July 31, 2017 by Marine Scotland Communications No Comments | Category Collaborations, Marine Directorate general, Marine Directorate Science, Marine Directorate Surveys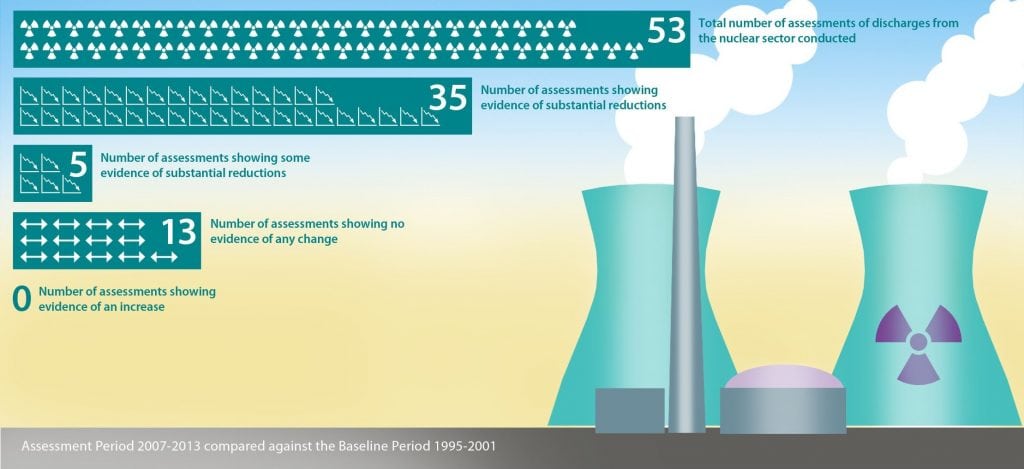 OSPAR collects data on authorised discharges and environmental activity concentrations for several radionuclides. For the purpose of evaluation, OSPAR distinguishes those radionuclides that emit alpha radiation (total alpha activity) and those that emit beta radiation (total beta activity).
Discharges from fuel reprocessing plants are much reduced but remain the dominant source of discharges from the nuclear sector, contributing approximately 90% of the total alpha activity and approximately 80% of the total beta activity (excluding tritium), in discharges over the assessment period (2007–2013).
The latest evaluation shows continued progress by OSPAR Countries towards the OSPAR objectives in the nuclear sector (fuel reprocessing plants, nuclear power plants, research and development facilities, and nuclear fuel production and enrichment). For 35 out of 53 (66%) of the assessments for the nuclear sector, there is evidence of substantial reductions in radioactive discharges since the baseline period (1995–2001). None of the assessments showed evidence of an increase in discharges.
Tags: Defra, environment, JNCC, north east atlantic, OSPAR, SEPA
Comments