Marine Scotland
Benthic Biotopes in Barra
June 11, 2018 by Marine Scotland Communications No Comments | Category Marine Scotland general, Marine Scotland Science, Marine Scotland Surveys, Research Vessel Surveys
Survey: 0818A
Duration: 8 – 14 June 2018
Gear:
Seatronics drop frame (to be loaded 05.06.18) – SNH hire
Seatronics lights (to be loaded 05.06.18) – SNH hire
HD TV system + lights (5 plastic cages)
Armoured cable + spare + axle stands & bar
Day grab + table + 2 x sieve drawers
Background and Objectives:
Survey 0818A serves work carried out by Scottish Natural Heritage and Marine Scotland Science investigating the distribution and quality of benthic biotopes in inshore waters around Scotland. The resultant data are required to underpin the management of the new suite of Marine Protected Areas (MPA), to meet commitments prescribed by the Scottish MPA Monitoring Strategy, and to identify Priority Marine Features (PMFs) outside the Scottish MPAs network. The 0818A survey aims in particular to establish the current status of benthic habitats within the Sound of Barra Special Area of Conservation (SAC), adding upon survey work conducted during 0717A.
To establish the current status of benthic habitat protected features within the Sound of Barra SAC, or contingency sites, using quantitative drop-camera sampling and grab methods.
To collect seabed samples using the day grab for sediment size classification and for infaunal analysis. Collected infaunal samples will be stored in 4% formalin.
Benthic Survey:
0818A will conduct a benthic survey of the seabed at various sites within the Sound of Barra. This survey will utilise the Alba's standard drop-camera system and umbilical winch deployed from the aft of the vessel. The camera system will be fitted with two line lasers to allow species densities to be estimated. A subset of the survey boxes shown (Fig. 1) will be surveyed during 0818A, time allowing. The camera frame will be landed at regular intervals during 10-40 min video tows to allow still photographs to be taken. Shorter five minute video tows will be collected from stations across the Sound of Barra SAC to fill remaining gaps in the seabed biotope map. Species type, density and substrate type (assessed visually) will be classified for each video transect post-survey. Grab samples will be collected using a standard day grab and will be processed on deck using a 1mm sieve prior to their storage in formalin.
Contingency sites: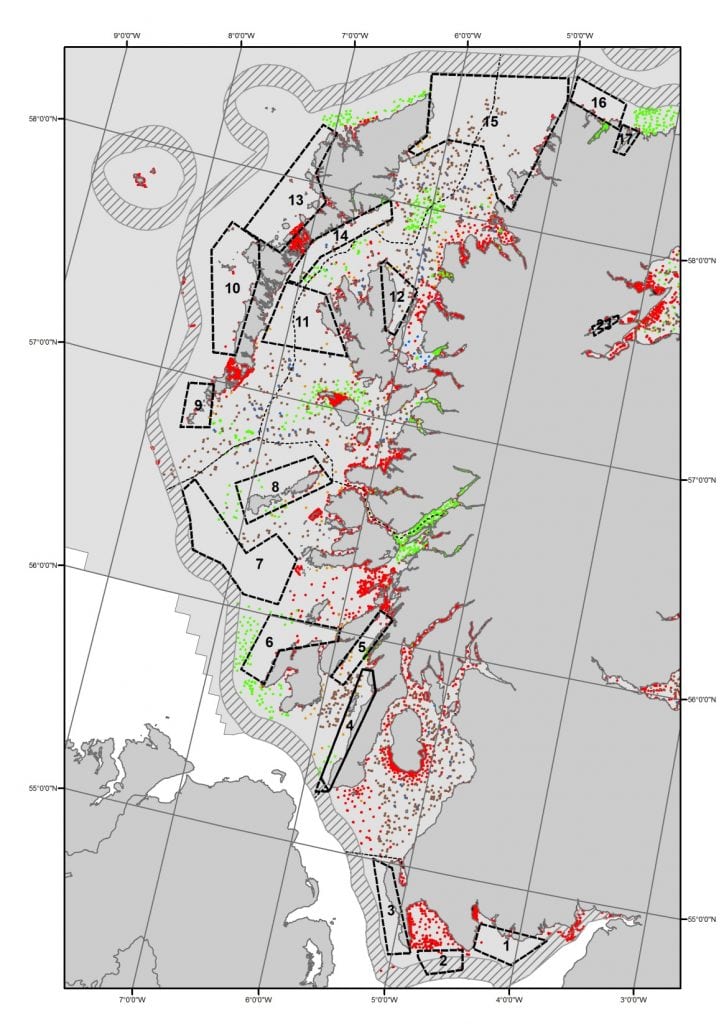 Alternative survey sites in the event of poor weather at Barra Sound have been identified at a variety of locations all along the Scottish west coast, and can be chosen depending on weather conditions (Fig. 2), e.g around the Sound of Mull, Wester Ross, the Inner Sound and the Sound of Jura. Additional areas where 'gap filling' work could usefully improve the existing knowledge-base have also been identified to the east of Skye (which may also serve as contingency en route from Wester Ross).
Further Information:
Tags: Alba na Mara, benthic, Marine Protected Areas, Marine Scotland, Marine Scotland Science, Monitoring, MSS, sampling, science, Scottish Natural Heritage, SNH, Sound of Barra, Special Area of Conservation
Comments