Marine Scotland
Multi-tasking with the Scotia
June 19, 2018 by Marine Scotland Communications No Comments | Category Marine Scotland general, Marine Scotland Science, Marine Scotland Surveys, Research Vessel Surveys
MRV Scotia left Aberdeen on 3rd June 2018 to begin survey 0818S – the 'Annual Nephrops Underwater TV Survey' (UWTV) – covering Fladen (North Sea), the North and South Minches, the Clyde, and the Sound of Jura. TV operations went well during the first day until the sea state worsened so the survey was halted until early on the 5th.
When the weather improved, the survey continued at a good pace, in calm but overcast conditions, working to the far north of Fladen before heading south along the west side of Fladen until the 8th. Later on the 8th an Acoustic Doppler Current Profiler (ADCP) was deployed in the west side of Fladen followed by two UWTV stations before heading west to catch the tide at the Pentland Firth. This left eight stations remaining for the return leg of the journey.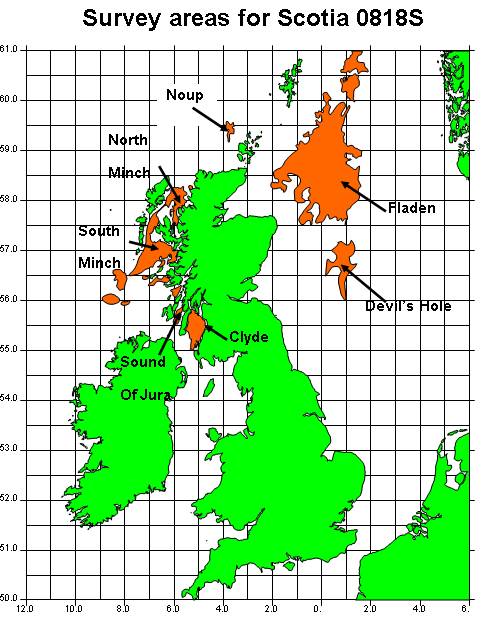 Very early on the morning of the 10th the vessel began working in the North Minch. The first task was to recover a mooring off Tolsta Head and then deploy a replacement unit. This mooring was one of seven to be collected during this cruise as part of the COMPASS programme. The moorings have been in place for a number of months and record the sounds made by passing cetaceans.
After acoustically releasing the buoys the device was easily spotted in the calm conditions and then safely brought onto deck. The replacement device, which was previously prepared, was then released at the same site. Once completed the UWTV survey continued south, where squat lobsters, fish and rocks were more frequently observed than had been in Fladen. A second COMPASS mooring was recovered and replaced off the Shiant Islands followed by the third off Hyskier in the east of the South Minch.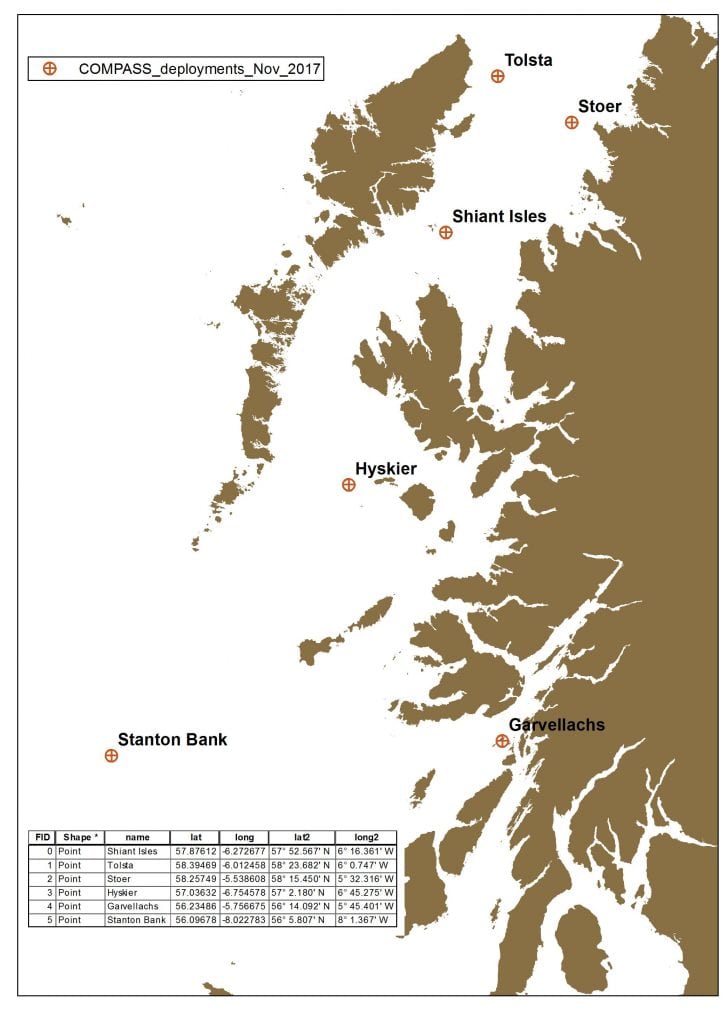 The UWTV survey continued south throughout the 11th working towards Stanton Banks, accompanied by the occasional pod of dolphins. Generally the visibility observed from the camera has been exceptionally good providing excellent data for the primary purpose of this cruise – to observe and count the number of complexes created by Nephrops. In addition many prawns have been seen on the seabed, along with haddock, sea pens, dogfish, hermit crabs, squat lobsters and the ubiquitous hagfish!
Further Information:
Tags: cetaceans, Clyde, COMPASS, crabs, dogfish, Fladen, Haddock, Hyskier, Marine Scotland, Marine Scotland Science, Minch, MRV Scotia, MSS, nephrops, Sound of Jura, Survey
Comments