Marine Scotland
Celebrating the Year of the Engineer with Matt Geldart
October 9, 2018 by Marine Scotland Communications No Comments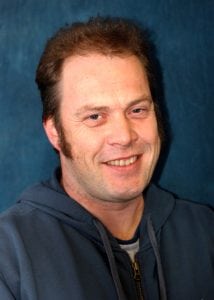 As we mentioned in our blog in January, 2018 is the Year of the Engineer as well as the Year of the Young Person. Over the course of the year, we've been introducing you to some of our incredibly talented engineers, as well as showing your some of their work.
This month it's the turn of Oceanographic engineer Extraordinaire and part-time actor, Matt Geldart.
Who are you and what do you do?
My Name is Matt Geldart (or Matthew on more formal occasions, or when my wife is cross with me).  My job title at Marine Scotland is Oceanographic engineer.
This job title covers a multitude of disciplines, electronics instrumentation engineer – with respect to the many and varied fleet of CTDs (which measure seawater conductivity, temperature and depth – plus a myriad of other seawater parameters such as oxygen and nutrients), Current meters, and other instrumentation and associated hardware.
When on Scotia, I am the Moorings Engineer: I design and organise fabrication of moorings, I hold the pre-recovery and deployment meetings for the whole ship, I lead the ship's crew on deployment and recovery of moorings, and also have to be on call at a moment's notice for when things go wrong – this has a habit of happening at  0300 and some brave soul is tasked with the job of waking me up in order to diagnose and (hopefully) fix the problem that has presented itself, or figure out a workaround that will keep everything ticking over until the end of the survey. 
Of course, moorings don't just get deployed in the Faeroe-Shetland Channel, or just from Scotia; since gaining this position, I have deployed and recovered moorings in Loch Torridon, Sheildaig, Loch Ewe, Loch Linnhe, and off Stonehaven – The fieldwork, especially on the West Coast gives me the opportunity to experience the rugged beauty of the West Coast of Scotland, and of course, the journey to and from the fieldwork sites is also filled with some dramatic scenery.  There are times when I consider myself truly lucky to be able to enjoy all of this – and get paid for it. 
During times between survey trips, I supply and ready equipment for other groups, making sure that it is correctly set-up for the needs of individual surveys, and also try to ensure that the equipment is within Service & Calibration periods; this can require a considerable amount of juggling between times equipment is needed, and times when it can be sent away for six weeks. 
In addition, when at the Marine Lab, I am responsible for seawater salinity measurement, managing a team of two Salinometer operatives, who measure salinity samples from cruises and from the SCObs (Scottish Coastal Observatory), formerly LTM –  Long Term Monitoring, sites from around the coast of Scotland.  One part of the SCObs Network is Stonehaven.  I currently organize the Stonehaven Sampling Roster, which timetables our happy band of Stonehaven Samplers in order that the sampling can occur without interruption every week of the year.
Other than that, I also have a number of more Administrative tasks.
Why is what you do important? 
Oceanography is a fascinating area of Science, I tend to regard it as the Physical Geography of the Sea.  The make-up of the sea itself, its salinity, its temperature, its chemical structure, the ways that the current flows around these islands, places that are outliers to the norm, are all fascinating things to be able to measure and to track changes over time.
Whilst I am not a Scientist myself, it doesn't stop me from having slightly more than a layman's interest in these things and from playing my small but not insignificant part in enabling all of these studies to continue.
Whilst I might not be at the forefront of the science itself, my role is not insignificant in the general day-to-day running of the Group.  The highest compliment that a member of my team once said to me was that if I were to leave the group, then everything would be in deep disarray!
What's your career path been – how did you get here?
In a sentence, one might say – More by accident than design. 
As a boy in school, I developed a huge interest in electronics, and particularly in radio.  I would buy the magazine Hobby Electronics each month and from time to time build the projects that were within the pages.  Working in electronics, and preferably in radio was very much my burning ambition.
At 23, I decided to go to Cardiff Institute of Higher Education (Now Cardiff Met University) and did my HND in Engineering (Electronics & Communication).  It was a great couple of years for me and one on which I look back fondly.
When I qualified, there was a recession, and nobody was taking on electronics engineers.  Thus after a little time I applied to the University of the West of England in Bristol, and did a B.Ed. in Mathematics.  Two years later I was a qualified teacher and spent the next 11 years teaching mathematics in a number of Secondary state and independent schools.
Teaching mathematics can be very rewarding at times, but it can be challenging.  As a boy myself, I enjoyed mathematics, and in the days before quite so many people went to University, many schoolchildren hoped to go into a technical career or nursing and thus recognized the need for the mathematics as a requirement for such careers. 
After 11 years of teaching, I had become Head of Mathematics, but I needed a change – and so we moved to Aberdeen.
After just over a year working for Stagecoach – which was a great way to get to know the North East of Scotland, I passed an interview for the post of Electronics Technician in the Engineering Section of the Marine Lab. 
I began working for The Marine Lab February 2006 and got promotion after 18 months.
Initially, it was great to get my hands on a soldering iron again, building projects for various groups, and maintaining various pieces of equipment, everything from the Lecture Theatre projector, to Dual Methot nets and ARIES – or anything else for which the Scientific groups of Marine Lab needed technical support. 
Then the position in Oceanographic Services came up, I applied and was successful.  I set myself the personal task of getting to grips with everything that the group did within two years, and with the support of colleagues I achieved this goal.  Getting familiar with all the complicated and very specialized instrumentation, how to do moorings, how to lead the deck crew on Scotia effectively, the nature of the various monitoring networks, particularly the LTM sites and their samplers and the various other elements that are required for smooth running of the group.
Over time, the team I work in has changed; people have left, sometimes leaving massive holes in workload and specialist knowledge that needed to be covered, and more people have come into the group, and helped restore a good equilibrium within my particular work–life balance. 
All in all, the move to Oceanography has provided me with an interesting and varied work life, it has allowed me to become a known name in my field, which sometimes surprises me at trade exhibitions, and has allowed me considerable autonomy at work, which is something I enjoy and thrive under.
So yes, when I left school, I had ever heard of Oceanography, and perhaps the way in which I ended up in Marine Scotland is more by serendipity than by outright career path decisions, but my trade training and my passion for electronics, and my love of the countryside have found a happy match in this particular position.
What's your proudest achievement so far?
I'm not sure proudest is quite the right word here, but certainly this was a very enjoyable moment and was quite an achievement…
This is a bit of an odd one, and I'm not sure how this all came about – but I have the, perhaps enviable, job of writing the Marine Lab Christmas Panto, all written from scratch.  My particular favourite was The Big Lab Theory.
Now, many people in the Lab enjoy The Big Bang Theory on television, and it had been mentioned to me that I should write a Marine Lab one.  And so I did! AND all of the science in it was true!
And the panto is a very important thing for staff morale and for cross group team building.
What would you say to any aspiring young engineers?
Go for it! Sure, the path might be difficult – I personally remember the effort that I had to make to master Fourier and Laplace transforms, and Electron Hole Theory and other such things – but the rewards are there afterwards. As a young engineer, it is very much "bread and butter for today so you can have jam tomorrow", but as successive electronics engineers have shown the paths to promotion are indeed open, and the path may well take you on an unexpected journey of life to somewhere you hadn't even considered.  Keep an open mind.
As someone involved in Outreach, would you encourage others to do it?
I love doing outreach, and wish I could do more of it; it gives me the opportunity to showcase all the best bits of what I do, for fresh minds.  Be that schoolchildren having a tour of Scotia, university students visiting the lab so they can see practical applications for the theoretical and classroom based lectures that they have received at their university, or members of the public on such things as "Doors Open Day" – It's all great fun to show off the "party pieces" of the Lab – but also to be able to answer some more enquiring questions that sometimes arise from these audiences.
It gives me a buzz – and I have been told that my passion for my work is obvious when I am doing it, and this makes the subject matter come alive for the audience.  I suppose all those years in front of classes of mathematics pupils has held me in good stead for this role.
Perhaps it isn't for everyone I think it is a great outlet for the "showman" in me, but if you are passionate about your work, if you like expressing your passion to an audience, if you enjoy meeting many and varied people of all ages and of all backgrounds, then I would thoroughly recommend getting involved in some way with the whole Outreach thing.
And one fun fact about you?
Whilst my work in the lab is technical, outwith the confines of this building, I am a chorister at St Margaret's church Gallowgate, and a part time film actor. Recently I was involved in a short film about women who dared to challenge a pub's "No Ladies Please" policy.  It's all good fun and broadens my social life with people outwith Marine Scotland.
Further Information
Tags: engineer, fisheries, lab, oceanography, science
Comments