Marine Scotland
Science Colleagues get 'Girls into Physics'
October 8, 2019 by Marine Scotland Communications 1 Comment | Category Collaborations, Guest Blog, Marine Scotland general, Marine Scotland Science, Oceanography, STEM, Uncategorized
Today on Ada Lovelace Day we hear from one of our colleagues, Louise Campbell (shown middle in picture above), about her involvement with 'Girls into Physics' events and why she is keen to dispel the myth of how difficult and hard physics is. Read on for Louise's story and for more information about events taking place.
**********************************************************************************************
The 'Girls into Physics event' is part of a series of events, supported by the Institute of Physics (IOP). The first event was a 'one off' half day event in Edinburgh in 2009. The event was so popular that it was changed to a full day and repeated in the same location in 2010. Since then the number of events has grown steadily and this year there are events in: Lockerbie, Edinburgh, Glasgow, Dundee, Dunfermline and Inverness. At each of the events the girls get a talk unconscious biasing. They are then divided into groups of 15 and go round a series of workshops. At each workshop they spend 30 minutes doing a hands on activity. The day is all about showing the girls the potential opportunities that continuing to study Physics gives them. It also gives them the opportunity to work in groups with girls they have never met before.
The reason why I am keen to contribute to events like this is because I think it is really important to show young students (not only girls) the different career paths you can take if you continue studying science such as physics. I especially think that girls avoid studying subjects that are thought to be 'hard and difficult' even though they enjoy them and are good at them.
I was very determined that I was not going to study physics at University, because everyone kept telling me how difficult and hard physics was…so I believed them. In the end (…long story) I ended up studying physics at University and LOVED it. Yes it was hard work, but in a good and challenging way. I think it is important to encourage and inspire other young people (especially girls) that it is ok to keep studying subjects that you actually enjoy and find interesting, even though they are earmarked/branded as difficult.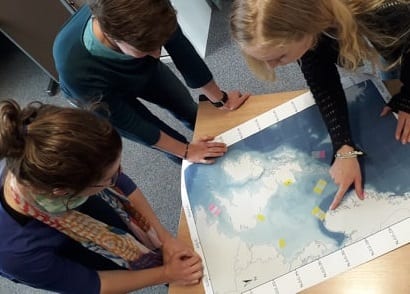 You will without a doubt do better/more likely to stick with it, if you actually find it interesting and enjoy it.
With a physics degree you can do so much! You can apply it to so many different areas and physics is literally everywhere around us. One area which is dominated by physics is our oceans. A big part of oceanography includes studying the physical aspects of the ocean such as: ocean currents, tides, waves, circulation and so on.
During the event we discussed hydrodynamic modelling and particle tracking. This can be useful when tracking both biological species, such as sea lice, and chemical substances in the event of, for example, an oil spill. We asked the students to guess where they think particles would end up if they were released from Aberdeen harbour as a kind of 'pin the tail' game (shown in picture to the right). A simulation done with our in house model showing the trajectory of the particles over the course of a yearlong simulation was then shown. This was well received and got the students to consider how far anything that is placed in the water can travel in a relatively short time frame.
I hope that by attending and contributing to events like 'Girls into Physics', we can demonstrate the importance of physics and give insight into one area where physics plays a massive role. If I can encourage/inspire anyone to pursue/continue to study physics, I will be very happy and content!
Tags: Ada Lovelace, Ada Lovelace Day, career, career path, careers, Girls into Physics, hydrodynamic modelling, job, Marine Scotland, Marine Scotland Science, MSS, ocean, ocean currents, oil and gas, Physics, science, sea lice, species, STEM, study, studying, tides, University, water circulation, waves
Comments