Marine Scotland
Clean Seas Environmental Monitoring Programme
January 8, 2020 by Marine Scotland Communications No Comments | Category Marine Scotland general, Marine Scotland Science, Research Vessel Surveys, Uncategorized
MRV Scotia Programme
Survey: 0120S
Duration: 6-21 January 2020
Fishing gear: BT 137 with Ground gear E;
Sediment Sampling: Day grab
Litter sampling: Catamaran and neuston trawl
Water sampling: Aquatracka fluorometer, Seabird 25 and modified acoustic sledge
Objectives:
To undertake water, sediment and biological sampling for the Clean Seas Environmental Monitoring Programme (CSEMP).
Monitor and record all litter brought aboard in all trawls. Sample water column and sediment for micro-plastic litter. Collect fish guts and any other biota of interest for microplastic research.
If possible, deploy Aquatracka and Seabird 25 to collect fluorescence data.
 Procedure:
Scientific staff will join the vessel on 05 January 2020 to conduct final set-up of scientific equipment. After required drills, the vessel will depart Leith (am) on 06 January and head for the nearest sampling station as agreed with the master and fishing master. The order in which sampling stations will be undertaken will be agreed on a daily basis and in line with current weather conditions.
Fish sampling for biological effect assessment will be carried out at multiple locations detailed in Table 1.
Due to a lack of sites in certain sampling regions, new sites (in red in Table 1) will be tested and assessed for the collection of dab (in Central Minch, North of Coll and West of Orkney). If successful, the target species will be sampled for biological effect assessment and chemistry analysis.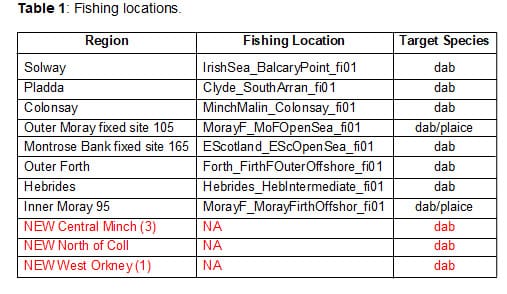 Fish will be sampled for chemical analyses, biological effects and fish diseases (Table 2). Some biological effects measurements will be carried out during the survey.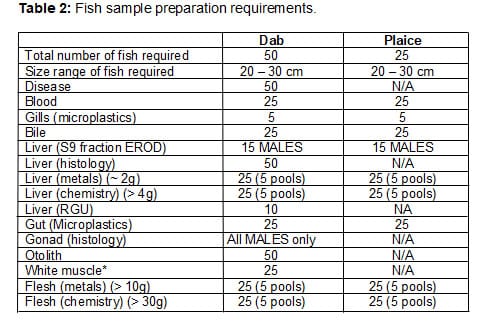 Sediment sampling will be carried out at the Montrose bank, East coast, Inner and Outer Moray Firth, Minch North, Minch South, Colonsay, Outer Hebrides, Sea of Hebrides and Solway sites. Sediment sampling will also be carried out at the four CSEMP fixed sites (NMMP85 – North Minch, NMMP95 – Inner Moray Firth, NMMP105 – Outer Moray Firth, NMMP165 – Montrose Bank) (see Map 1). Sediments will be sampled for chemical analyses at all locations. The coordinates of all sediments site is shown in Table 3 (Primary sites) and Table 4 (Secondary sites – used if Sampling a Primary site failed).
Sediment sampling will also be attempted in the West of Orkney (exact location to be confirmed – see green circle on (Map 1) to add another sampling site on the CSEMP programme.
Monitoring of all litter brought on board during trawling operations will continue throughout the survey. The catamaran will be deployed to sample for micro-plastics whenever possible (exact high priority locations to be confirmed) and samples processed onboard as far as possible. Additional sediment samples will also be taken for micro-plastics where possible. Fish guts and any other biota of interest might also be preserved and returned to the lab for analysis (exact sampling requirements to be confirmed)
The Aquatracka will be deployed in the Forth and in at least one other area to obtain reference measurements. Vertical profiling will be performed and tows using the modified acoustic sledge will also be tested.
Table 3: Sediment grabs locations – PRIMARY SITES.
REGION
Field ID
decLat
decLong
Latitude
Longitude
Outer Forth
E of Isle of May
56.1994
-2.4096
56 11.96N
002 24.57W
N of Wheat Stack
55.9998
-2.2497
55 59.99N
002 14.98W
NE Torness
56.1001
-2.3404
56 6.00N
002 20.42W
Rath Grounds
56.1593
-2.6593
56 9.56N
002 39.56W
S of Isle of May
56.1335
-2.5351
56 8.01N
002 32.11W
The Minch North
UM1.1
58.0350
-6.2100
58 2.10N
006 12.60W
UM1.2
58.1060
-5.6950
58 6.36N
005 41.70W
UM1.3
57.9870
-5.7430
57 59.22N
005 44.58W
UM1.4
58.2000
-5.8800
58 12.00N
005 52.80W
UM1.5
57.9910
-5.5810
57 59.46N
005 34.86W
85se
58.0000
-5.6667
58 0.00N
005 40.00W
The Minch South
UM2.1
58.1120
-5.9310
58 6.72N
005 55.86W
UM2.2
58.1320
-5.8980
58 7.92N
005 53.88W
UM2.3
57.8590
-6.0280
57 51.54N
006 1.68W
UM2.4
57.7540
-6.0200
57 45.24N
006 1.20W
UM2.5
57.7580
-5.9130
57 45.48N
005 54.78W
Sea of Hebrides
SOH1.1
56.7640
-7.4390
56 45.84N
007 26.34W
SOH1.2
56.6000
-7.4990
56 36.00N
007 29.94W
SOH1.3
56.8310
-6.8440
56 49.86N
006 50.64W
SOH1.4
56.4460
-6.7310
56 26.76N
006 43.86W
SOH1.5
56.6270
-7.5260
56 37.62N
007 31.56W
SOH1.6
56.6850
-6.8890
56 41.10N
006 53.34W
SOH1.7
57.1010
-7.1720
57 6.06N
007 10.32W
SOH1.8
56.8930
-6.5550
56 53.58N
006 33.30W
SOH1.9
56.3870
-6.4770
56 23.22N
006 28.62W
SOH1.10
56.8100
-6.6940
56 48.60N
006 41.64W
Hebrides
HEB1 1
57.5560
-8.6250
57 33.36N
008 37.50W
HEB1 2
57.6370
-8.6370
57 38.22N
008 38.22W
HEB1 3
57.5770
-8.6640
57 34.62N
008 39.84W
HEB1 4
57.3750
-8.4330
57 22.50N
008 25.98W
HEB1 5
57.6000
-8.5810
57 36.00N
008 34.86W
Colonsay
COL1
56.1100
-6.0800
56 6.60N
006 4.80W
COL2
56.0890
-6.1420
56 5.34N
006 8.52W
COL3
56.1180
-6.0510
56 7.08N
006 3.06W
COL4
56.1520
-6.0720
56 9.12N
006 4.32W
COL5
56.1680
-6.1160
56 10.08N
006 6.96W
Solway
SOL1
54.7500
-4.0000
54 45.00N
003 60.00W
SOL2
54.7665
-3.8345
54 45.99N
003 50.07W
SOL3
54.7565
-3.8630
54 45.39N
003 51.78W
SOL4
54.7500
-3.9157
54 45.00N
003 54.94W
SOL5
54.7272
-3.9600
54 43.63N
003 57.60W
East Coast 
EC1.1
56.5570
-2.5100
56 33.42N
002 30.60W
EC1.2
56.6690
-2.1630
56 40.14N
002 9.78W
EC1.3
56.6270
-2.3810
56 37.62N
002 22.86W
EC1.4
56.5180
-2.5460
56 31.08N
002 32.76W
EC1.5
56.6780
-2.1690
56 40.68N
002 10.14W
165se
56.5000
-1.5000
56 30.00N
001 30.00W
Moray Firth
MF1.1
57.7320
-3.8110
57 43.92N
003 48.66W
MF1.2
57.9040
-3.6480
57 54.24N
003 38.88W
MF1.3
57.7990
-3.3580
57 47.94N
003 21.48W
MF1.4
57.9440
-3.5460
57 56.64N
003 32.76W
MF1.5
57.9120
-3.5300
57 54.72N
003 31.80W
MF2.1
57.9600
-2.8450
57 57.60N
002 50.70W
MF2.2
57.9150
-2.7380
57 54.90N
002 44.28W
MF2.3
57.8670
-1.9490
57 52.02N
001 56.94W
MF2.4
57.8690
-2.8690
57 52.14N
002 52.14W
MF2.5
57.8040
-2.1900
57 48.24N
002 11.40W
MF2.6
57.7990
-2.6530
57 47.94N
002 39.18W
MF2.7
57.8610
-3.1720
57 51.66N
003 10.32W
MF2.8
57.8440
-2.9130
57 50.64N
002 54.78W
MF2.9
57.9050
-3.0410
57 54.30N
003 2.46W
MF2.10
57.9050
-3.0410
57 54.30N
003 2.46W
105se
58.0500
-3.0000
58 3.00N
002 60.00W
95se
57.6667
-3.8167
57 40.00N
003 49.00W
Table 4: Sediment grabs locations – SECONDARY SITES
REGION
Field ID
decLat
decLong
Latitude
Longitude
The Minch North
UM1.6
58.1330
-5.6540
58 7.98N
005 39.24W
UM1.7
58.3080
-6.0300
58 18.48N
006 1.80W
UM1.8
58.1130
-6.1690
58 6.78N
006 10.14W
UM1.9
58.2560
-5.5300
58 15.36N
005 31.80W
UM1.10
58.2060
-5.4990
58 12.36N
005 29.94W
The Minch South
UM2.6
57.8770
-6.1830
57 52.62N
006 10.98W
UM2.7
57.8420
-6.1730
57 50.52N
006 10.38W
UM2.8
57.9390
-6.0410
57 56.34N
006 2.46W
UM2.9
57.7180
-6.1330
57 43.08N
006 7.98W
UM2.10
57.8310
-5.9900
57 49.86N
005 59.40W
Sea of Hebrides
SOH1.11
56.8430
-6.6550
56 50.58N
006 39.30W
SOH1.12
56.7570
-7.1110
56 45.42N
007 6.66W
SOH1.13
56.9120
-7.2950
56 54.72N
007 17.70W
SOH1.14
56.7490
-6.9390
56 44.94N
006 56.34W
SOH1.15
56.4480
-7.1510
56 26.88N
007 9.06W
Hebrides
HEB1 6
57.6050
-8.7390
57 36.30N
008 44.34W
HEB1 7
57.6050
-8.6920
57 36.30N
008 41.52W
HEB1 8
57.5150
-8.6540
57 30.90N
008 39.24W
HEB1 9
57.4880
-8.6440
57 29.28N
008 38.64W
HEB1 10
57.5790
-8.7550
57 34.74N
008 45.30W
East Coast
EC1 6
56.7190
-2.2080
56 43.14N
002 12.48W
EC1 7
56.6350
-2.3540
56 38.10N
002 21.24W
EC1 8
56.5450
-2.4050
56 32.70N
002 24.30W
EC1 9
56.5540
-2.4220
56 33.24N
002 25.32W
EC1 10
56.6490
-2.2520
56 38.94N
002 15.12W
Moray Firth
MF1 6
57.9010
-3.4510
57 54.06N
003 27.06W
MF1 7
57.8740
-3.6280
57 52.44N
003 37.68W
MF1 8
57.6440
-3.6640
57 38.64N
003 39.84W
MF1 9
57.7200
-3.6250
57 43.20N
003 37.50W
MF1 10
57.9200
-3.6600
57 55.20N
003 39.60W
MF2 11
57.7750
-2.3650
57 46.50N
002 21.90W
MF2 12
57.8420
-2.1150
57 50.52N
002 6.90W
MF2 13
57.7980
-2.3940
57 47.88N
002 23.64W
MF2 14
57.8280
-1.9120
57 49.68N
001 54.72W
MF2 15
57.7940
-2.3640
57 47.64N
002 21.84W
Additional Information:
Tags: #0120S, #marinescience, #MRVScotia, biological effect assessment, Clean Seas Environmental Monitoring Programme, CSEMP, micro-plastic litter, MSS, Scotia
Comments