Marine
Acoustic Tracking of Salmon and Sea Trout in Torridon
March 18, 2020 by Marine Directorate Communications No Comments | Category Collaborations, Marine Directorate general, Marine Directorate Science
A two-year project has helped to track the movement of salmon and sea trout smolts in the Loch Torridon system, Wester Ross.
During 2018 and 2019 Marine Scotland Science fitted migrating salmon and sea trout with acoustic transmitters to track them through a grid of 80 acoustic receivers across Upper Loch Torridon, Loch Shieldaig and most of Outer Loch Torridon. With each of the receivers spaced around 800m apart, the movements of individual fish could be tracked around the study area.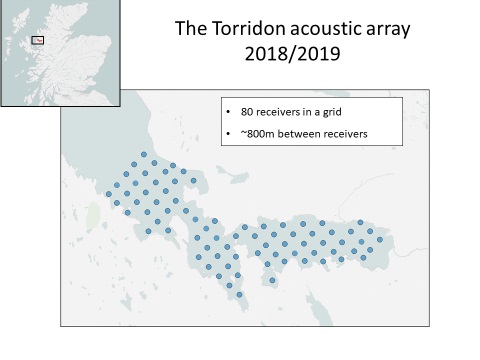 Over the two years smolts were tagged in each of the three main rivers emptying into the system:
Torridon (35 salmon, 53 sea trout),
Balgy (85 salmon, 50 sea trout), and
Shieldaig (274 sea trout)
More than 2.5 million pings from fish tags were detected.
Some of the initial findings showed:
Salmon from both the Torridon and the Balgy showed marked variation in time taken to leave the area, indicating potential differences in individual exposure to hazards encountered in the inshore environment.
Variation in sea trout movement patterns – from fish that remained in the area surrounding their river mouth, to fish that moved to a non-natal river mouth. For example, one fish from the Shieldaig spent several days in the sea pool of the Applecross (where a lone receiver had been stationed) before returning to Torridon.
Predation was frequently identified as a source of mortality for sea trout. Predation events could be identified through pronounced changes of tag behaviour and speed of movement in the array and, for data tags, increases in reported temperature and associated changes in depth patterns.
Non-lethal tag ejection events were detected by a tag being recorded as stationary on the sea bed, while the fish it had been inserted into was subsequently recaptured in the Shieldaig fish trap, recognised by its secondary tag sea trout depth-use varied between day and night (deeper in the day) which could be due to a change in food availability or a response to a change in predation risk.
In 2020 MSS will again be tagging fish in the three rivers and deploying an array of acoustic receivers. This year however, the array's design will be modified in an attempt to discover the fate of the fish that are never detected at sea, and to shed further light on the night-time 'disappearance' of sea trout. We also aim to collect further information on the 'escape times' of salmon, and to perform an analysis of genetic material collected from the fish.
Further Information:
Tags: fish migration, fish tagging, fisheries, freshwater fisheries, Loch Torridon, Recreational Fisheries, research, Salmon, sea trout, Shieldaig, Shieldaig Field Station, Torridon
Comments