Marine
Nature of Scotland Awards Countdown
November 24, 2020 by Marine Directorate Communications No Comments | Category Collaborations, Freshwater Fisheries, Marine Directorate general, Marine Directorate Science, Marine Planning
With the Nature of Scotland awards taking place tomorrow we're excited for all the nominees that have been shortlisted, but especially so for our colleagues!
Co-sponsored by NatureScot and RSPB Scotland the Nature of Scotland awards comprise nine award categories all celebrating the excellence, innovation and outstanding achievement in nature conservation.
Dr Faye Jackson has been nominated for the SAGES 'Conservation Science Award' for early career researchers for her work on 'the development of novel monitoring and modelling methodologies to understand and predict spatio-temporal variability in river temperature.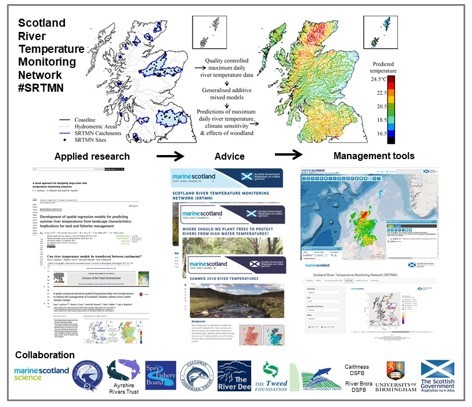 This work, which included collaboration with researchers from Marine Scotland Science (MSS), the University of Birmingham, and practitioners from Fisheries Management Scotland, established the Scotland River Temperature Monitoring Network (SRTMN), the first ever strategically designed and quality controlled temperature monitoring network in the UK.
Using data collected from the network it has been possible to model river temperature and identify priority areas for management. This work is of key importance to safeguard our iconic wild salmon, as it provides a practical tool to prioritise climate change adaptation measures like riparian tree planting.
The objectives of SRTMN are to: 
Develop large-scale spatial statistical models to understand and predict river temperatures across Scotland.
Identify the warmest and most climatically sensitive (those likely to change most under climate change) rivers.
Understand the effects of bankside shading on river temperature in different environmental settings.
Develop tools to enable river managers to prioritise tree planting to mitigate the effects of climate change on Scottish rivers.
Measure and assess long-term changes in river water temperature.
Also nominated, but in the 'Coast and Waters' category is Flapper Skate Conservation a collaboration between: St. Andrews University, University of Aberdeen, NatureScot and Marine Scotland. It was developed from a project led by the Ecology and Conservation Group within MSS that preceded the designation of the Loch Sunart to the Sound of Jura Marine Protected Area (MPA), designated in 2015 to protect common skate, also known as flapper skate.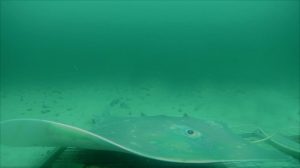 We wish everyone the best of luck and will be tuning in to the a virtual live streamed event online from 7pm tomorrow.
To register for free please follow this link.
Further Information:
Tags: climate change, Fisheries Management Scotland, Flapper Skate Conservation, Loch Sunart, Marine Protected Area, Marine Scotland, Marine Scotland Science, NatureScot, research, River Temperature, RSPB Scotland, science, Scotland River Temperature Monitoring Network, Sound of Jura, University of Birmingham
Comments