Marine Scotland
Mandatory monitoring for Scottish scallop dredge fleet
June 28, 2021 by Marine Scotland Communications No Comments | Category Fisheries, Marine Scotland general
Our Future Fisheries Management (FFM) Strategy, launched in December 2020, set out our policy initiatives for the next ten years to protect the environment and support a strong, sustainable and resilient fishing industry. The FFM Strategy presents a clear vision for delivering accountability and confidence in our sea fishing activities, and in ensuring that we have the right data and knowledge available on which to base management decisions.
A key component of the FFM Strategy is the £1.5 million Modernisation of the Inshore Fleet Programme – a Scottish Government commitment to more effectively monitor fishing in inshore waters by deploying appropriate and proportionate vessel tracking and monitoring technology across our fleets.
Since 2017, in accordance with existing legislation, a number of scallop dredge vessels operating in Scottish inshore waters have had operational Remote Electronic Monitoring (REM) devices onboard. Now, under the first phase of the Modernisation Programme, the use of such technology is being deployed across Scottish registered scallop dredge vessels to monitor activity at sea.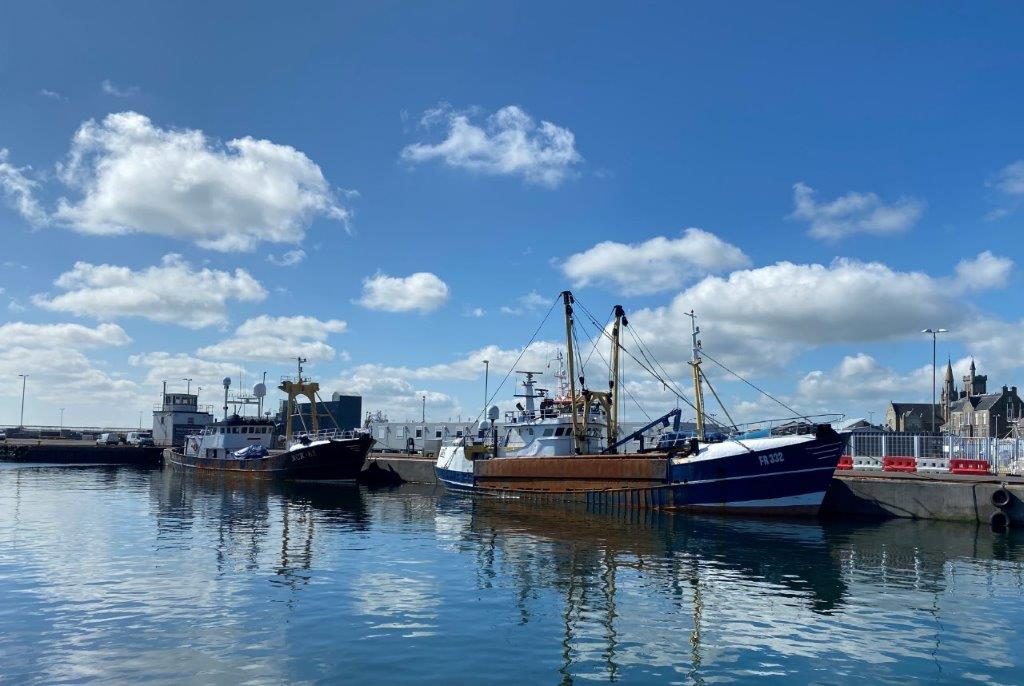 The technology uses Global Positioning System (GPS) and other data such as speed, direction and winch movement detection, to ascertain vessel location and what fishing activities the vessel is engaged in at that location. Cameras focussed on the dredges provide a bird's eye view of where the dredges are stowed, emptied and launched from (there is no intention that they identify individuals).
Fully funded voluntary installations are ongoing around Scotland and our intention is to introduce legislation to make REM technology mandatory for scallop dredge vessels. Our priority therefore is to ensure remaining eligible scallop dredge vessels take advantage of the available 2021 funding before allocation moves to the next phase in the Modernisation Programme and REM systems become mandatory.
The inshore marine environment is increasingly in demand, by a variety of sectors who want to utilise the resource. The Modernisation Programme aims to help address the challenges this poses by enhancing the fisheries evidence base and enabling improved interaction between the fishing industry and other marine users. The Modernisation Programme will help to deliver accountability and confidence in our fleets, provide a more detailed profile of Scotland's inshore fisheries, to aid and improve management measures, and to help sustain this important industry for our coastal communities.
Next Steps
If you wish to have the funded REM unit installed, or have any further queries, please contact Marine Scotland's Fully Documented Fisheries (FDF) Unit. The FDF Unit will advise you throughout the process and send you the necessary paperwork, with a view to arranging an installation this summer.
Further information
The FFM Strategy has set out a clear direction of travel regarding vessel REM in Scotland. We are tailoring the deployment of REM across our fishing sectors to reflect the varied nature of fishing activity. We will shortly consult on rollout of REM in Scotland using a proportionate and risk-based approach.
Tags: fisheries, fisheries management, Fully Documented Fisheries, Fully Documented Fisheries unit, Future Fisheries Management, Future Fisheries Management Strategy, inshore fishing, Inshore fishing fleet, Marine Scotland, Remote Electronic Monitoring, scallop dredge vessels, Scotland's inshore fisheries, vessel tracking
Comments