Rural and Environment
2017 priorities
January 5, 2017 by Roseanna Cunningham MSP 1 Comment | Category Climate Change, Environment, EU, flooding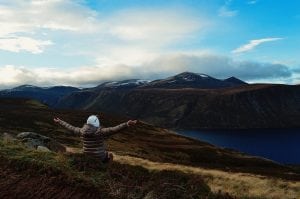 It's a time of year when it is all too easy to retreat indoors, turn up the heating, draw the curtains, and forget the wonders of the Scottish landscape.
But the short days and the long nights of January provide an ideal opportunity to start planning the year ahead.
The Cairngorms in winter, springtime in the Borders, summer days in the Hebrides or the glories of Highland Perthshire in autumn – anyone planning a trip right here at home has a myriad of choice.
Of course, our mountains, lochs and rivers have their own inherent value. Scotland's landscape helps shape our sense of national identity and, arguably, our national character.
Ours is a country rich in natural capital – the resources which underpin a strong economy.
As Ban Ki-moon once remarked: "It is time to recognize that human capital and natural capital are every bit as important as financial capital".
Scotland's natural environment is estimated to be worth more than £20 billion per annum to the economy and it directly supports more than 60,000 jobs.
Its true value, of course, is incalculable.
That is why it is vital that we continue to develop and manage our environmental resources sustainably, allowing future generations to benefit from them in years to come.
2017 promises to be highly significant for everyone who cares about our environment.
One of the biggest priorities for me in the new year will be working to secure Scotland's place in Europe.
Membership of the European Union has driven up environmental standards in so many areas.
We have all benefited from co-operation to improve the quality of the air we breathe and the water we drink.
These are just two examples and there are so many more.
It would certainly be a mistake to forget that the EU has also been a driving force in securing a global, legally binding agreement to address climate change.
I have repeatedly made clear that I am not prepared to turn back the clock on standards of environmental protection.
As the First Minister has set out, we are determined to maintain Scotland's position in the European single market.
The single market allows us to benefit from a framework which protects a range of environmental interests and drives up standards.
It's no secret we'd have preferred the UK to stay in the EU. We know that the economic and environmental risks created by a hard Brexit will be grave and we will work tirelessly to prevent Scotland's interests being damaged.
But those threats will not distract us from our work to fight climate change and build a prosperous low carbon economy.
.@strathearnrose launching Edinburgh Adapts the city's first climate change plan @AdaptationScot at Holyrood Park today pic.twitter.com/0Ka02zbaTw

— Scot Gov Greener (@GreenerScotland) December 1, 2016
Scotland has already exceeded its climate change targets for 2020 – six years early. But I am determined to push ahead.
I will shortly publish a new climate change plan which will be followed by new legislation setting even tougher emissions reduction targets.
Scotland has already demonstrated that what is good for the planet can be good for our pockets.
Low carbon industries in Scotland, and their supply chains, generated almost £11 billion for the economy in 2014 and supported 43,500 jobs.
We're investing over £140m in Energy Efficiency in 2017-18 to help us deliver our climate change targets #ScotBudget pic.twitter.com/Cf2pKfOoXY

— Scottish Government (@scotgov) December 15, 2016
Climate change also means we are already experiencing more extreme weather conditions more often.
In a country like Scotland, flooding has always been a concern but the events of last winter will live long in the memory for affected communities, as they do for anyone who find their home or business flooded.
.@strathearnrose visits flood protection measures in construction at Almondbank this AM pic.twitter.com/oIswYsO7x4

— Scot Gov Greener (@GreenerScotland) December 14, 2016
That's why the Scottish Government has committed £420 million through our ten year strategy to protect 10,000 homes in many of Scotland's most flood-prone towns and villages.
So, the year ahead will be another busy one. There's much work to do. But I am heartened by the support I continue to receive from those who care passionately about the protection of Scotland's wonderful natural environment.
Tags: EU, flooding, natural environment, Roseanna Cunningham
Comments