Digital
User testing in alpha
July 2, 2014 by Jono Ellis No Comments | Category Digital Public Services, mygov.scot
This is a post by Paul Wheatley, our Senior UX Designer
With mygov.scot we have taken a user-centred approach to design. Practically, this involves a number of methods, but the most important is that we conduct regular testing with real users at least once every fortnight on an on-going basis.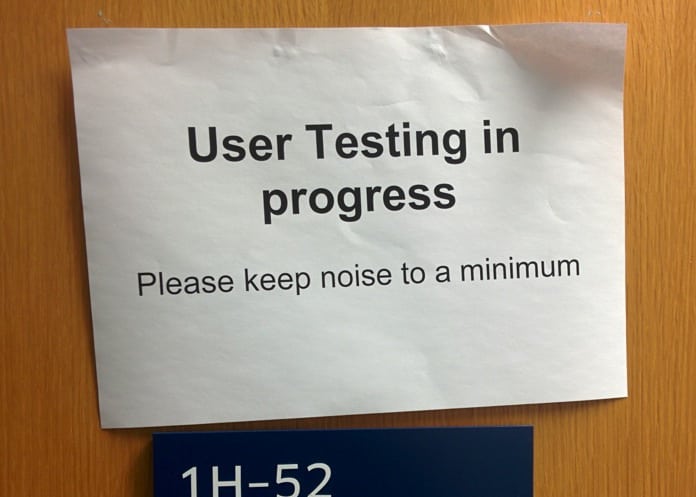 How do we take a user centred approach?
First we decide what we are actually going to test.
We achieve this by looking at our 'sprint' backlog to find out what stories are planned for the next sprint. As an example, we might look at a story called 'As a citizen I need to be able to navigate back to the home page from any page within the site'. We would think about how a citizen might expect to achieve this based on feedback from previous tests and industry best practice.
We would build a 'clickable prototype', which is basically a simple website you can interact with, and then write a testing hypothesis and testing scenarios for the citizen to work through.
For example the hypothesis might be:
"Citizens know to click on the mygov.scot logo to return to the home page"
The testing scenario could be:
"Suggest we need a scenario that would involve multiple needs and a return to the homepage"
The citizen will then be asked to use the clickable prototype to complete the scenario. The testing team monitor what the citizen does using screen sharing to determine if the hypothesis passes or fails. Generally we would take four or five hypotheses into user testing.
Following the testing, we get the UX team together with other members of the scrum team to split the hypotheses into these categories:
Rework – Current thinking failed, we need to rethink how this feature works and take it back to the next round of testing.
Backlog – This idea is not working at the moment and is not something we are wanting to spend any more time on at the moment.
Next sprint – The idea passed and will be added to the next sprint workload.
Wherever possible, we get the whole team to watch the tests either live in an observation room, or from recorded clips played back. It's incredibly valuable for all disciplines within the team to understand the way users are interacting with the site and to share this user insight immediately. User testing is a must for all projects – not just web-based projects. It's refreshingly surprising how much insight we get from putting ideas in front of users. And the earlier, the better.
We'll be sharing this post and more on social, so follow the team via @mygovscot on Twitter for more updates. Have a comment? Let us know below!
Tags: content
Comments