Digital
Alpha now available to Scottish Government staff
August 7, 2014 by Jono Ellis No Comments | Category Digital Public Services, mygov.scot
This is a post by Tom Meade, our Programme Manager
We've been working on an alpha release for the past 10 weeks, learning a lot along the way. So what is the alpha? Alpha is our way of trying to see if we're doing the right thing for our users. It's our ambition that overtime, mygov.scot will become the main channel that people use to access public services in Scotland.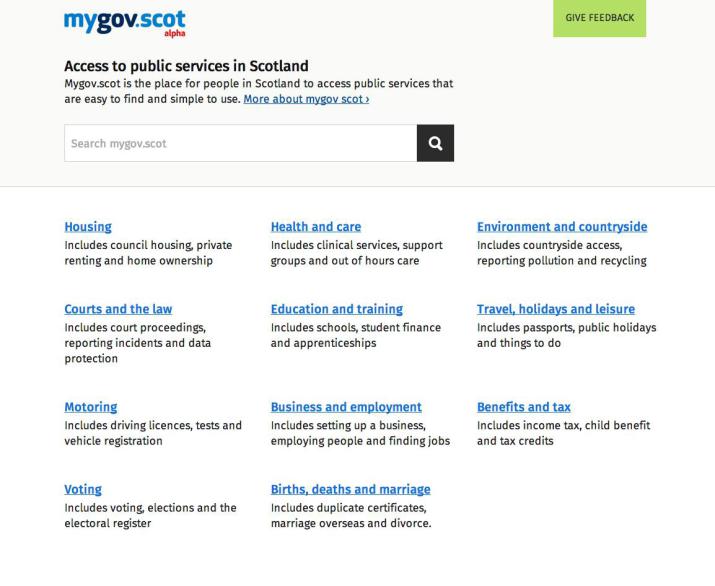 Building a living, breathing website
We've had a single scrum team developing a fully functional proof of concept for five, two week sprints. This isn't just a clickable prototype, it is an actual living, breathing website – an end-to-end working solution that we think represents all the key aspects of what mygov.scot will be. It will help us to find out what you think – what works and what doesn't work, so that we can make improvements for the benefit of everyone who uses it.
Putting users at the heart of the design process
Putting in place the foundations for an in-house user research lab allowed us to observe people using iterations of alpha and understand what worked and what didn't. At the end of each two week sprint, we got real people to tell us what they thought. Naturally this led to our thought process adapting and changing based upon the findings. We don't have everything worked out, various design decisions and content considerations still have us scratching our heads.
What went in to alpha?
We thought about what would go into a representational product and what things we were unsure of – both allowing us to get early feedback on the site. We know that the small offering of user needs being met won't offer long term value to users, however knowing how users interact with the content and meeting those needs, offers a huge opportunity for learning.
We've tried to create alpha based upon our understanding of what we think the product should look like. Our approach to meeting user needs has focused on breadth and depth.
Breadth is about coverage across a wide range of popular user needs. It's about making sure we have a product that captures and meets the most popular needs that the public sector provides for

Depth is about exploring a subject in more detail, covering user needs that may be less regularly searched for but just as important as any other user need
The depth of alpha content is currently focused on housing. It's been developed in partnership with our colleagues in the Justice division. They've provided a second pair of eyes and have been fact-checking content to make sure it's accurate.
For our breadth of content, we've analysed the top 500 user needs identified by our colleagues at Government Digital Service (GDS). These translate to around 200 content items, with various levels of localisation being undertaken by our team depending upon context.
Our content quality and the scope of user needs met by mygov.scot are not where we want them to be. We've used signpost pages, which link to off-site content, more than expected. We're also working through early thoughts on content inclusion with partner organisations.
Other content and design considerations
How people access content is, at times, just as important as the content itself. Some time and deliberation has been spent on information architecture. We've looked at what data needs to be stored about content items, how they are related and where they live on the site within our browse categories.
Search was important too. There is some work around post code look-ups to enable users to find local services We've also implemented Apache Solr (

https://lucene.apache.org/solr/

), which is currently helping to power how we relate content together and our site-search function

We've integrated with external sources through APIs to pull content to the site

There are some cool in-line editing features allowing our content team to be as nimble (that unfortunately users won't see) – making changes really fast

Ensuring the site works on multiple devices

Enabling processes and technology to allow software builds to be carried out automatically
So, how far did we get?
There's a lot more we did, but there's also a lot that we didn't.
We didn't finish the styling to the degree we would have liked

We didn't develop as much content as we would have liked

We didn't try out different content types as we would have liked
The list goes on. We had to cut it right down in order to build a product that worked, was available early and didn't run the risk of traveling to far in the wrong direction.
We also tried out some things that just weren't right. Think Scottish landscape shots on the homepage, designed to inspire and add colour. Instead they were thought to be distracting and unnecessary.
Our phased approach to testing
At this early stage in the development of mygov.scot we're seeking feedback from internal Scottish Government colleagues. From next week, we'll be extending the availability of alpha to our wider public sector stakeholders.
Your role in shaping the future of digital services in Scotland
We want you to visit our alpha site and tell us what you think. Be open and honest with us and let us know where something works, or doesn't work. We're starting work on shaping beta, so being armed with a range of feedback will help us build a better product for users. We think beta will be a release that has a wider appeal. It should be less about testing the idea of a product and more about maturing it.
We'll be sharing this post and more on social, so follow the team via @mygovscot on Twitter for more updates. Have a comment? Let us know below!
Tags: Product
Comments