Marine Scotland
So, how were the nephrops?
January 19, 2018 by Marine Scotland Communications No Comments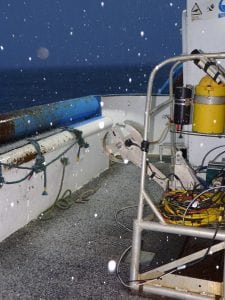 At the beginning of January, we blogged about the research adventures of the Alba na Mara as she went off in search of nephrops. The Scientist in Charge of that survey got back in touch with us to let us know how they'd got on:
The west coast TV survey abroad Alba na Mara spent the first day of the cruise (6th Jan) in Fraserburgh due to poor weather. The weather continued to hamper the cruise as the vessel made its way to the west coast, eventually arriving at the planned destination off the north of Jura on Tuesday 9th Jan, following nights spent in Loch Erribol and at Kyle.
The following two days were spent using the TV sledge to survey areas of mud for Nephrops burrow abundance which have not previously been included in the summer Scotia Nephrops TV surveys. These annual cruises use information from BGS charts to direct where the Nephrops TV surveys will be carried out (except in the North Minch where VMS data form the basis of the survey design). To the north west of Jura there is a patch of mud extending out to Colonsay that is already charted. However on the 2016 January cruise (0116A) aboard Alba na Mara, exploratory sites beyond this known ground were investigated using underwater TV cameras and a drop frame. The preliminary results implied the mud covered a larger area than that presently charted, and it is on these grounds the TV sledge was deployed during this part of the 0118A cruise.
Two days were spent working between the north west of Jura and to the south of Mull before steaming to anchor off Kerrera on the night of the 11th. Due to the poor weather the work plan for the following two days involved calibration exercises between the TV sledge and drop frame, two methods for investigating Nephrops burrow habitat but each having unique characteristics. This work was carried out in the shelter of Loch Linnhe before heading for Oban on Sunday 14th for the planned half landing and a change of scientific staff.
Notable points so far on this survey have been the significant swings in temperature; outstanding sunrises; Kyle's RNLI rib using Alba for training purposes; and the magnificent snow topped west coast hills.
Further Information
Tags: nephrop, prawn, scampi, Survey, vessel
Comments