Marine
Marine Mammals, Sediment Sampling and Looking for a Missing Buoy
October 21, 2019 by Marine Directorate Communications No Comments | Category Collaborations, Marine Directorate general, Marine Directorate Science, Marine Directorate Surveys, Marine Planning, Oceanography, Research Vessel Surveys
MRV Alba na Mara
Survey: 1819A
Duration: 21 – 31 October 2019
Objectives:
Recover and redeploy marine mammal monitoring moorings with acoustic releases, at eight sites in the Sea of the Hebrides and North Minch.
Collect sediment samples at a number of sites south of Skye.
Attempt to locate and recover 'missing' buoy close to Eilean Liubhaird, Isle of Lewis (57⁰ 58 N, 6⁰ 23 W).
Operations
Survey 1819A will recover and redeploy an underwater noise and marine mammal monitoring mooring array,  which is collecting data for the EU INTERREG VA COMPASS and MarPAMM projects funded by the Special EU Programmes Body (SEUPB).
Once the Alba na Mara sails from Troon the vessel will head for the first mooring location at North Islay and work in a Northerly direction thereafter. Survey operations will take place between the hours of 07:00 and 19:00. Stations will be serviced depending on the prevailing weather conditions i.e. if wind strengths or wave heights are adverse, a precautionary approach will be adopted.
Sediment sampling with the Day Grab will be undertaken South of Skye.
An attempt to locate and recover a 'missing' buoy close to Eilean Liubhaird, Isle of Lewis (57⁰ 58 N, 6⁰ 23 W) will be undertaken (weather permitting).  This buoy was deployed in 2017 and previous attempts to recover it have failed.
Table 1. Table of mooring locations (shown below)
Figure 2: A typical mooring (shown below).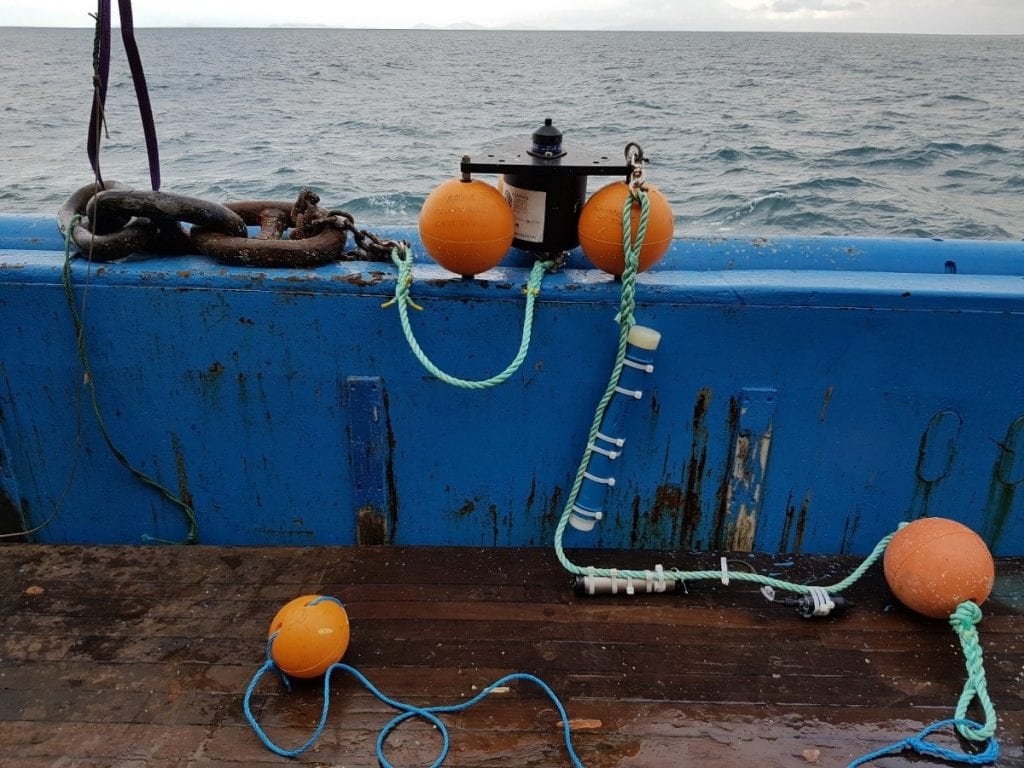 Further Information:
Tags: Alba na Mara, COMPASS, Eilean Liubhaird, EU INTERREG VA COMPASS, INTERREG, Isle of Lewis, Marine, marine mammal, marine mammal monitoring moorings, Marine Research Vessel, MarPAMM project, Monitoring, moorings, North Islay, North Minch, oceanography, research, research vessel, sampling, science, Skye, Survey, Troon
Comments