Marine Scotland
Ocean Acidification and the Damage it can Cause
October 21, 2019 by Marine Scotland Communications No Comments | Category Collaborations, Marine Planning, Marine Scotland general, Marine Scotland Science, Oceanography, Publications, Scottish Coastal Observatory, Uncategorized
Dr Pablo Leon Diaz, Plankton Ecologist in Marine Scotland Science, has just had a paper "Relationship between shell integrity of pelagic gastropods and carbonate chemistry parameters at a Scottish Coastal Observatory monitoring site" published in the ICES Journal of Marine Science.
The paper presents the first investigation of the impacts of ocean acidification on shell-forming plankton in Scottish coastal waters. Shells of marine snails (pteropods and the pelagic larvae of otherwise benthic gastropods), collected at our Stonehaven monitoring site were examined, and the relationship with ocean acidification (pH and carbonate concentration) investigated. Ocean acidification results from the increased absorption of anthropogenic CO2 from the atmosphere by the sea.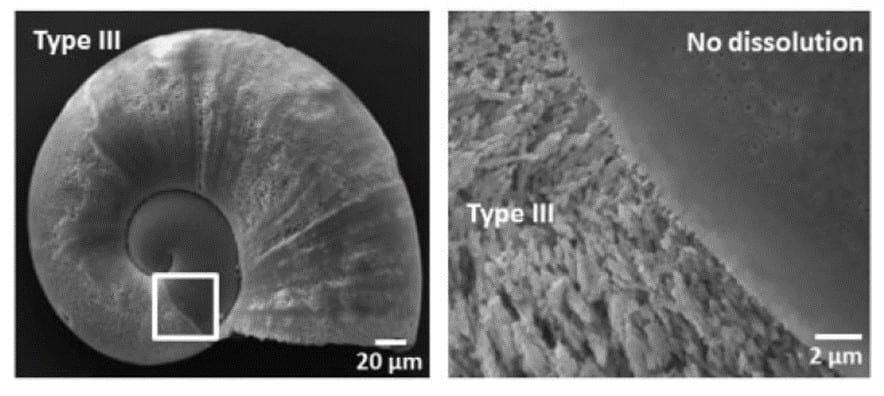 Figure 1: Electron microscope image showing the detail of a Type III dissolution due to ocean acidification of the shell of a microscopic animal (planktonic gastropod).
Ms Gougeon MSP, Minister for Rural Affairs and the Natural Environment, welcomed the paper and noted "the publication of this paper shows how Marine Scotland Science is leading the science needed to understand and address the impacts of ocean acidification in Scotland's marine environment".
Commenting on the research Dr Leon Diaz noted "this study presents evidence of damage to shell-forming plankton in Scottish coastal waters, associated with changes in the carbonate chemistry parameters. It shows that ocean acidification, which has been seen in the world's oceans, can also affect us here in Scotland ."
Led by Dr Leon Diaz, the research team included scientists from the USA, the Netherlands, University of Aberdeen, National Oceanographic Centre of Southampton as well as a number of scientists from Marine Scotland Science. As part of an international expert workshop Dr Leon Diaz also contributed to a publication looking at the descriptors used to determine the impacts ocean acidification on pteropods which was recently published in the scientific journal Frontiers of Marine Science.
Further Information:
Tags: Dr Pablo Leon Diaz, Ecologist, ecology, Frontiers of Marine Science, ICES, ICES Journal of Marine Science, Marine, marine environment, Marine Scotland, MSS, National Oceanographic Centre of Southampton, Ocean Acidification monitoring, plankton, pteropods, publication, research, science, scientific journals, scientific paper, SCObs, Scotland, Scottish Coastal Observatory, Stonehaven, University of Aberdeen
Comments