Marine
International blue carbon partnerships awarded £10K
June 30, 2022 by Marine Directorate Communications No Comments | Category Aquaculture, Blue Carbon, Climate Change, Collaborations, Marine Directorate general, Marine Directorate Science, Marine Environment, Marine Planning, Ocean Acidification, Scottish Blue Carbon Forum
Blue carbon experts have been successful in their bids for funding up to £10,000 per project, following the launch of the Blue Carbon International Policy Challenge (BCIPC) in April by Minister for Environment and Land Reform, Mairi McAllan.
The BCIPC has supported new international partnerships to share knowledge and find ways to move from research to action as they explore how carbon stored in our ocean (blue carbon) can help mitigate and adapt to climate change impacts.
The four project teams selected to receive funding demonstrated innovation in areas of research that can help to realise the potential of blue carbon nature-based solutions for climate, people and biodiversity globally.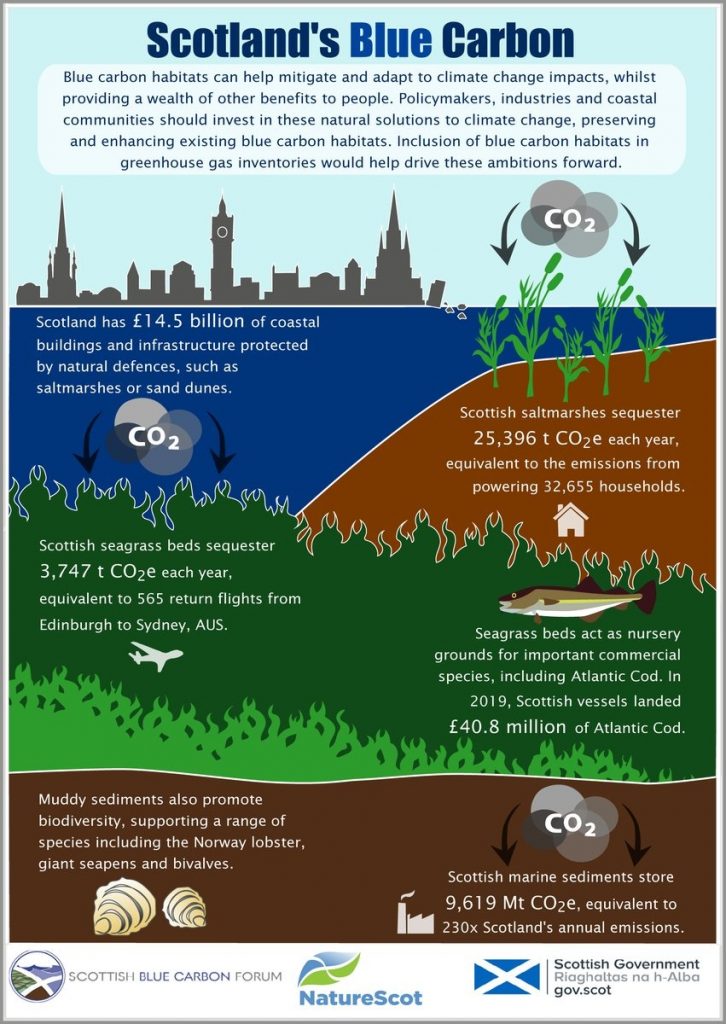 Minister for Environment and Land Reform, Mairi McAllan said: "We are delighted to support these projects, which bring international partners together to achieve the shared goal of furthering knowledge and understanding of blue carbon to mitigate and adapt to climate change impacts. Working collaboratively will have collective benefits for our global environments, economies and communities including accelerating action on the future challenges we all face in delivering on our COP27 blue carbon ambitions."
Writing from the United Nations Ocean Conference in Lisbon this week, Scottish Blue Carbon Forum (SBCF) chair Professor Bill Austin (University of St Andrews) commented "I am delighted to see the successful Blue Carbon International Policy Challenge awards announced today by the Scottish Government, particularly timely as we build a strong and connected network through the new UN Decade Programme for Ocean Science (GO-BC) that will focus on Blue Carbon and aims to deliver "the science we need for the ocean we want". I am delighted that Scotland will lead by example in building strong international partnerships to support the UN's Sustainable Development Goals (SDG) and particularly its support for UN SDG number 14 (life below water)."
All projects will conclude in October 2022, with outputs contributing to Scottish Government activity for COP27 – supporting a continued focus on ocean-climate action.
Further details of the successful projects and partners can be found below:
Maximising the co-benefits of blue carbon restoration – for nature, blue economy, and communities
Partners from Scotland: James Hutton Institute and University of St Andrews, Norway: Norwegian Geological Survey, and Ireland: University College Dublin will review current blue carbon habitat protection, restoration and creation approaches and consider opportunities for blue carbon restoration. A workshop to gather national and international perspectives on policy and research implications will be also be conducted.
Blue forests – how macroalgae farming can be used in a net-zero policy framework
Scottish Association of Marine Science (SAMS) from Scotland and KTH Royal Institute of Technology from Sweden will bring together a network of international experts across marine science, industry and non-government organisations for a two-day workshop in the developing area of macroalgae (kelp) farming to highlight knowledge gaps where evidence is not sufficient.
Assessment of the potential for blue carbon partnerships between Scotland and international partners
Partners from Scotland: University of St Andrews and the USA: Conservation International (CI) will seek to initiate a network of partners with fjord (sea loch) expertise to develop and promote a greater understanding of blue carbon in mid-to-high latitude areas. The Scottish Government worked with the lead partner previously to progress the Chile-Scotland Memorandum of Understanding, signed at COP26.
Blue carbon ocean literacy: Communicating blue carbon research and evidence to diverse stakeholder communities
This project team aims to develop and improve blue carbon awareness. By identifying distinct target audiences the team will develop plain English guides to be translated into different languages, a community engagement video, and a Swahili translation of the citizen science Seagrass Spotter App to help African communities conserve seagrass.
Project partners from Scotland: Edinburgh Napier University, the Association for Coast Ecosystem Services (ACES) and Project Seagrass; Kenya: Vanga Blue Forest and USA/Philippines: Mangrove Action Project.
Further information
Tags: blue carbon, Blue Carbon International Policy Challenge, blue economy, climate change, marine environment, marine science, net zero, Scottish Government
Comments