Digital
When I went to visit GOVT.NZ
June 24, 2015 by Jono Ellis No Comments | Category Digital Public Services, mygov.scot
This is a post by Rachel Jane Patrick, our departing Digital Designer
During March and April I was lucky enough to find myself in New Zealand visiting friends and family. I volunteered to go in and say hello to the team in New Zealand, who are working on similar website to our own, www.govt.nz. I was keen to pick their brains about the project. Volunteering turned out to be a great idea as the team were so welcoming and open, sharing information about their processes.
Day 1 started with me observing as User Researcher, Annika, fed back on a recent user testing session which was both incredible and insightful. The focus on the test had been to compare the new and old information architecture and design of the site and for this they had used some eye-tracking software to see which aspects of the site people focused their attention on.
It was interesting to see from the results of the eye-tracking analysis that users kept going back to look at the brand imagery. The use of imagery on www.mygov.scot is a much-debated topic – as I'm in favour of introducing images it was good to see evidence that supported their use. During the task-driven exercises, the behaviour of users highlighted that it's more important to get an answer than the right answer.
I observed a planning meeting that I have to admit went more smoothly than many of ours; I think that it's maybe something to do with the relaxed, chilled nature of the Kiwis.
Next I had a great chat with Amiee, who heads up the Content team. Aimee talked about how content is written before the template formats are developed (not development first). They also have a read-aloud process when every word on every page gets scrutinised by reading the information out in front of a small group of people.
As I mentioned before, I'm all for more imagery on the site so getting to chat to the designer in the team, Meg, was beneficial for me to hear their rationale behind adding images to pages. She cited Edward Thorndike's 'halo effect' theory which states that an observer's impression of a brand, company or person influences their feelings and thoughts towards that brand, company or person, and they hope that when the user clocks a pleasant image on the site, they feel that they have had a positive experience.

"Humans change the process and that's okay as long as you remember the end goal."
Day 2 started off with a great presentation from Aimee about their recent site restructure and content audit. Their 'content formats decision matrix' runs from one-page to multiple pages, and informational to process-driven – each content format lies in a different quadrant. I love the stripped-back nature of the process, and it also means that govt.nz has a great foundation which they will be able to build upon in the future.
Currently New Zealand are consulting on whether they will adopt a new flag or not – a task I don't envy them for! – and the next part of my day was to observe a planning meeting around the process for the Flag Consideration Project,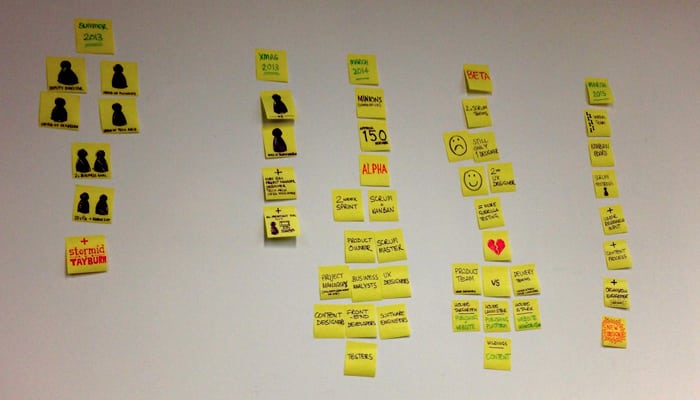 My Post-It Note presentation
Finally, shared with the team with a presentation on how the mygov.scot team got to where we are. This came with a caveat that I could only tell them it from my perspective and that I don't claim to understand or know why managers made particular decisions or what their decision process was. The feedback and questions that arose from my presentation were about the complex nature of dealing with the information architecture of sites, our team culture and morale.
The main thing I have taken away from my experience of www.govt.nz is that the challenges the mygov.scot team face aren't unique.
We should communicate more with colleagues on the Southern Hemisphere in the future, as I learn't a lot from the experience that will improve our work. 
The best thing about New Zealand: the people.
Oh and it's well worth the 3 days travelling to get there (see gloriously sunny beautiful photography montage below). starts immigration process
Tags: content, Design and User Experience, Product, user research
Comments