Digital
Digital First Service Standard – Call for Assessors
November 18, 2016 by Stewart Hamilton No Comments | Category Digital First, Digital Participation, Digital Public Services, Digital Transformation Service
Over the last couple of months the Scottish Government's Digital First Team have been developing and refining the assessment process for the Digital First Service Standard. The standard is a set of 22 criteria which all future central government digital public services and internal Scottish Government corporate systems will have to meet in order to go live. If you want to find out a bit more about the work we've been undertaking on the service standard why not have a look at one of our earlier blogs.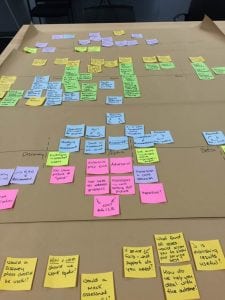 The assessment process
Our focus has been to create an assessment process which is collaborative, supportive and of value to the teams building digital services across the public sector. We have also been working with the Office of the Chief Information Officer in SG to ensure Digital First aligns with the government's overarching assurance framework.
More information on our Digital First Service Standard.
Where you come in
The Digital First Team are working towards formally launching the assessment process in early 2017 and we need help from people who have the expertise to make informed judgements about services.
We aim to create a pool of assessors from across Scotland with a wide variety of knowledge and experience of building digital services in different parts of the Scottish public sector. We are looking for volunteers to act as:
Lead Assessors
Technical Assessors
Product Assessors
Content Design Assessors
Assisted Digital Assessors
User Research Assessors
Performance Assessors
Could this be you?
We are keen to hear from subject matter experts who could fill these assessor roles. This is an open invitation for expressions of interest from anyone working in the public sector who works in these roles and has experience of developing a digital service. We are keen to hear from those of you who already act as assessors for the Digital by Default standard operated by the Government Digital Service for UK Government departments. Your expertise as subject matter experts and previous experience on assessment panels is exactly what we are looking for.
By becoming a Digital First Assessor, not only will you be supporting organisations to create the very best digital public services, but you also be playing an important part in ensuring that government services meet user needs and helping service teams to develop services in the right way.
What will it take?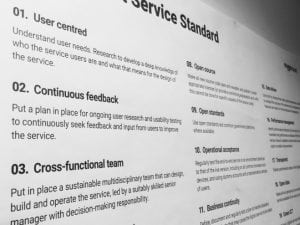 There is a time commitment of around 1.5 working days to prepare for an assessment and attend the assessment meeting. You will be required to listen to and question the service team to determine if the service has met the standard. To help you do this, a half-day training package is being developed that will introduce you to the Digital First Service Standard.
After that we envisage that you will be invited to participate in around 2 or 3 assessment each year. You will also be offered the chance to attend the Service Team's show and tell presentations and a pre-meeting with others on the panel before the assessment itself.
Interested?
If you would like to let us know of your interest in becoming an assessor or would like further information on the Digital First Service Standard don't hesitate to contact us.
Comments