Digital
5Rights Youth Leadership Group Launch
February 26, 2018 by Stewart Hamilton No Comments | Category Digital Participation, Uncategorized
Guest post by Sarah McLeod – Digital Participation Team, Scottish Government.
The Cabinet Secretary for Culture, Tourism and External Affairs, Fiona Hyslop MSP, met the 5Rights Youth Leadership Group at the Young Scot offices earlier this month.
The Youth Leadership Group are taking forward seven of the 20 recommendations from the 5Rights Youth Commission's Our Digital Rights report and their work will be showcased throughout the Year of Young People 2018.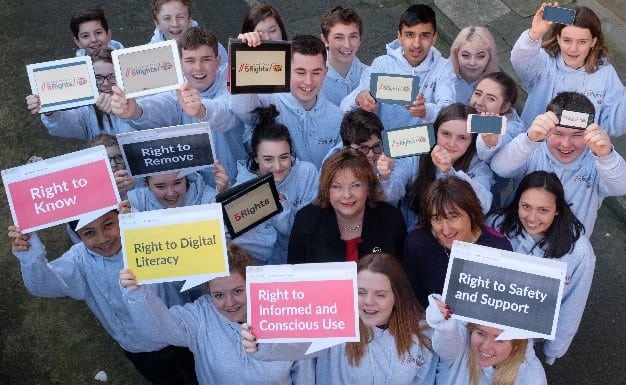 The launch event gave Ms Hyslop and Baroness Kidron, the founder of 5Rights, a chance to find out first-hand about the different areas the youth leaders are working on:
• Young digital champions programme
• Rights-based resources around cyber-resilience
• Digital rights respecting school and businesses
• Innovative tech around 5Rights
• Year of Young People celebration.
An interview live on Facebook allowed Ms Hyslop to share her thoughts on social media, the work of the Leadership Group and the digital world.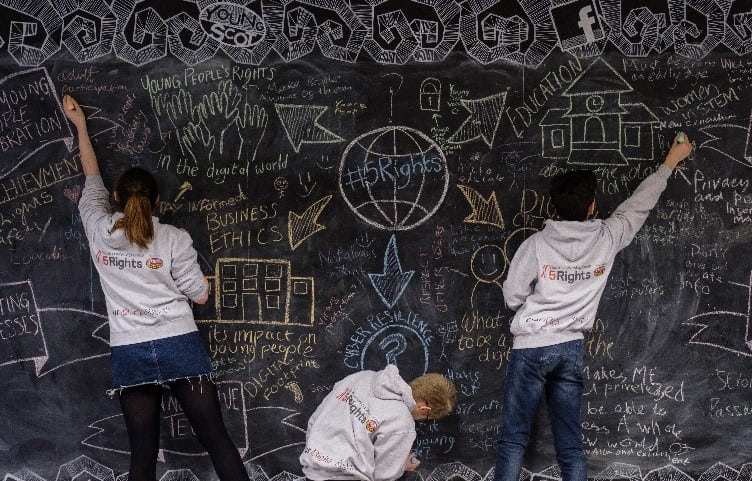 Ms Hyslop said: "It was great to meet the young people involved in the Youth Leadership Group and to hear about how they will be investigating and looking at how to take forward some of the recommendations from the 5Rights report. We recognise that young people are the leaders of today and tomorrow. The 5Rights agenda places the Leadership Group in an excellent position to help influence future policy development on matters that will affect not only young people but everyone in Scotland."
Connor Livingstone, a youth leader, said: "The official launch made me feel very inspired and even more passionate about the Young Scot 5Rights Youth Leadership Group. It also made me feel very proud to represent young people all over Scotland to make our "digital lives" more safe and secure.
As a group we are open to speaking to anyone, if you need advice on how to realise young people's right in the digital world or would like one of us to speak at an event, please get in touch. That's what the Year of Young People 2018 is all about."
5Rights
The 5Rights coalition recognises that the internet and digital technologies are a fundamental part of children and young people's lives. It believes that children and young people must be empowered to access the digital world creatively, knowledgeably and fearlessly.
5Rights is a new civil society initiative that provides a framework of five simple principles for how we should engage with children and young people in the digital world to make it a better and more empowering place to be.
Young Scot
Young Scot is the national youth information and citizenship agency for Scotland. Young Scot provide all young people in Scotland aged 11-26 with information, ideas and incentives to enable them to make informed decisions and choices, turn their ideas into action and take advantage of opportunities available throughout Scotland and Europe. Young Scot is the strategic lead for 5Rights in Scotland. Find out more on the Young Scot website.
Tags: digital, participation, scottish government
Comments