Digital
Scottish Government celebrates World Interaction Design Day (IxDD 2021)
September 17, 2021 by deborahamzil No Comments | Category Content Design, Digital, User-Centred Design
For the first time The Scottish Government will be hosting a series of presentations and talks from 28th to 30th September to celebrate this year's World Interaction Design Day for internal staff.
What is IxDD 2021?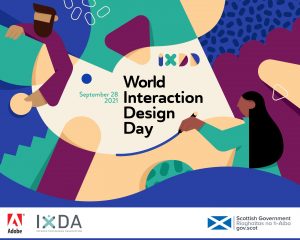 IxDD 2021 is an annual event where Interaction Designers and User Centred Design practitioners come together as a united global community to show how interaction design improves the human condition. 
Since we're all living through a pandemic right now, the theme for IxDD 2021 is "Solidarity and Transformation" as announced by Adobe and the Interaction Design Association. This year, IxDD is on September 28th 2021.
For 'World Interaction Design Day 2021' events at the Scottish Government (SG), we will explore how designers help us to adapt to a changing world, understand how they work and find ways to solve user problems despite the challenges they face.
The event, which is fully online, will include presentations, design showcases and interactive sessions.
The Scottish Government IxDD 2021 sessions start on 28th September and are spread across 3 days for flexibility and to provide an opportunity for everyone to attend.
Due to the pandemic these events will be virtual and for internal staff, however next year we hope to open up the event to all with a combination of virtual events and face to face seminars.
If you are interested in finding out more about the Interaction Design Day or how we could help please get in touch with us at: interactiondesign@gov.scot 
Tags: content design, Design and User Experience, Digital Scotland, interaction design, user centred design
Comments