Digital
Our new stakeholder management function
March 13, 2015 by Jono Ellis No Comments | Category Digital Public Services, mygov.scot
This is a post by Alexander Holt, Head of Transition, Digital Public Services & Business Transformation division
We're pleased to announce the arrival of the Stakeholder Manager team to the Digital Public Services and Business Transformation division. Their role is to engage with, and act as a conduit between Scottish public sector organisations and the wider Digital directorate.
Expanding mygov.scot and supporting digital transformation
For the next few months our focus is to communicate the ambitions of mygov.scot and help our public sector partners prepare for what that means for them. Our stakeholder managers will engage first with organisations that have been prioritised for transitioning content. We will guide them through the different phases of discovery, user needs research, content creation, and delivery with close involvement from experts in the mygov.scot team as required.
The Digital Public Services and Business Transformation division is also here to support public organisations achieve our vision for Scotland as set out in the Delivery of Public Services strategy. For that, we need to build a picture of the digital landscape across the public sector. In particular, we need to understand the priorities, ambitions for digital growth and how we can support them.
By having a dedicated team to build strong relationships with partners in central government, local government, health, education and business, we can build that picture. That way, we can help maximise technical and resource efficiencies and identify where we can work collaboratively to simplify services wherever possible by joining up the public sector landscape to serve the needs of the people of Scotland.
Meet our Stakeholder Managers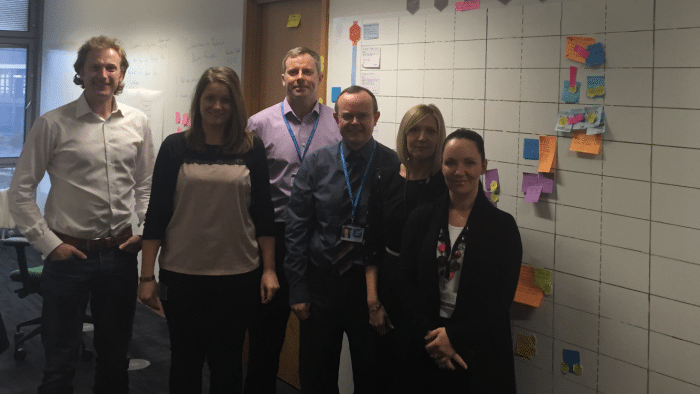 (L-R) – Alexander Holt, Fiona McEwen, Jim Gordon, Alan Rodden, Lesley Allen, Angela Macfie
Alexander Holt heads up the Stakeholder Manager team. Having delivered the successful procurements for the Glow, Scotland's nationally available digital environment for learning in 2014, Alexander joined the Digital Public Services and Business Transformation division this year. His background is commercial / entrepreneurial having run his own digital agency in London for 6 years.
Fiona McEwen is Stakeholder Manager for Health and Environment sectors. She has a strong communications background and was the Engagement Manager for Glasgow 2014 at the Organising Committee for the XX Commonwealth Games.
Jim Gordon is Stakeholder Manager for Central Government. Jim has worked in the public sector for over 20 years and has most recently worked on several policy areas of the Scottish Government's Digital Public Services strategy.
Alan Rodden is Stakeholder Manager for the Justice and Transport sectors. Alan has worked in various parts of Scottish Government as a policy manager including, most recently, leading on digital skills in the Digital Participation team.
Lesley Allen is Stakeholder Manager for Local Government and Education. She has worked in Local Government for the past 13 years, delivering transformational change in both the education and corporate sectors.
Angela Macfie is Stakeholder Manager for the Business sector. Angela has been leading on the Business Portal transition to mygov.scot since June 2014. She previously worked at Scottish Enterprise for 10 years. Angela has previously worked in marketing and communications and project management roles.more
Tags: Transformation
Comments