Digital
Online Identity Assurance – Show and Tell
March 19, 2018 by Digital Identity Scotland No Comments | Category Digital Identity, Digital Public Services, Digital Scotland, Scottish Approach to Service Design
In what feels like no time at all, we are approaching the end of the first phase of our work to develop a common approach for online identity assurance in accessing public services.
As we set out in our Programme Plan, within our initial Discovery phase, we have been researching and scoping out the challenge we face – with a plan to move towards the Alpha phase, where we will explore more fully the insights gathered during Discovery.
Our Discovery phase has been all about gathering as much insight as we can from those with an interest. Last month, we held our first Stakeholder Group meeting (pictured), bringing together over 20 invited guests and public attendees, with interests ranging from public service operational and technology-focussed organisations to privacy campaigners. Minutes from that meeting will be available on this blog very shortly.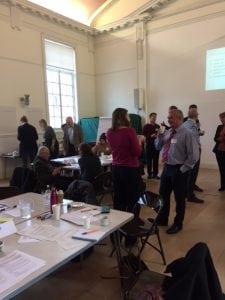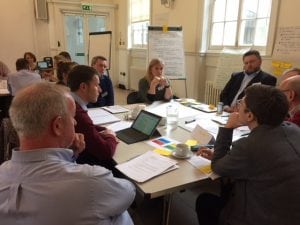 Another milestone was also reached recently through the appointment of ASE/Consult Hyperion, following a procurement exercise, to provide support in identifying the technical options for this work.
In order to capture the full breadth of work that has been undertaken, we are very excited to be hosting our first 'Show and Tell' on Wednesday 28 March. With the team from We Are Snook, we will talk through our Discovery research to date and preliminary findings and insights. We will also be showing some outline service journeys for feedback and comment.
The event is free and open to everyone, and can be signed up to via this Eventbrite page.
Please get in touch with any of the project team if you have any issues you wish to discuss. Also, look out for another blog coming very shortly, where we will confirm some upcoming key dates.
See our earlier blog posts:
Tags: digital public services, identity
Comments