Digital
Online Identity Assurance – an open approach
June 22, 2018 by Digital Identity Scotland No Comments | Category Digital Identity
Our Online Identity Assurance project is in the final stages of its first phase, 'Discovery'.
Great – but what have we learned during that Discovery phase?
Earlier this week, the project team – in the spirit and practice of Open Government – discussed our service design and technical options research with members of our National Stakeholder Group.
This included our project team leader Susie Braham offering a detailed summary of findings that emerged from interviews with people discussing their experiences of using online public services – as mentioned in our last blog – and technical lead Mike Crockart giving an explanation of the issues that our technical options work sought to address. Group members then took part in a workshop to discuss what they had heard, what they liked and to identify issues which could be improved in the next phase of the project.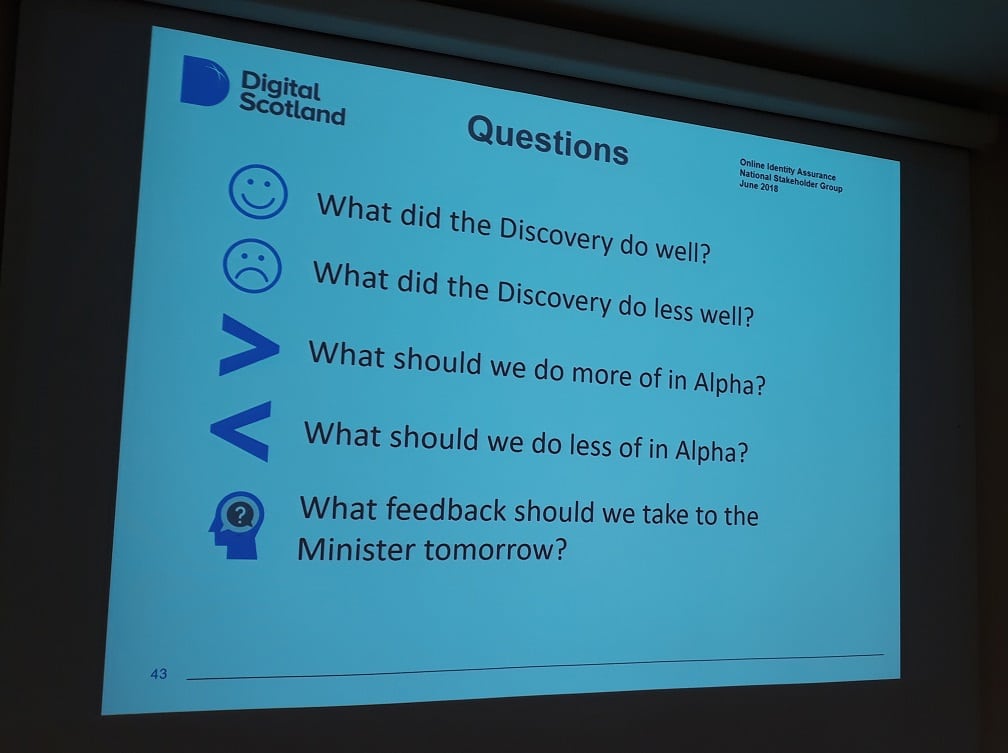 The presentations were filmed and can be accessed here on YouTube.
The full research reports, setting out the advice we have received from our specialist consultants on service design and technical options, are published online and can be accessed here.
Once again we thank We Are Snook and ASE/Consult Hyperion for their assistance in leading on this research.
The project team is pleased to be moving towards the next part of the programme, called our 'Alpha' phase, where some ideas based on what we learned will be explored. After a short planning period, Alpha will run from six to nine months.
Check out @DigitalScots and #IdentityAssurance on Twitter for some highlights from the meeting, and follow us to make sure you follow our latest updates.
Got a question for the project team? Get in touch via onlineidentityassurance@gov.scot.
Tags: assurance, digital identity, identity
Comments