Digital
Online Identity Assurance – approaching the next phase
May 18, 2018 by Digital Identity Scotland No Comments | Category Data, Digital Identity, Digital Public Services, Uncategorized
As the Online Identity Assurance project gets set to enter its next phase, recent activity has been focussed on capturing what we have learned since the project kicked off last year.
Past months have seen the Scottish Government project team work closely with members of the public, a range of partner organisations and technical specialists to understand as much as possible about the challenge of developing a common approach for online identity assurance in accessing public services.
In early April, we summarised our preliminary findings and insights gained so far at a Show and Tell. Since then, work has progressed in understanding the needs and experiences of people using public services both online and offline, and in identifying the technical options for how any 'common approach' might work.
With our initial learning 'Discovery' phase concluding, the next phase – 'Alpha' – will have testing ideas at its core.
We've learned so much during our Discovery phase and a lot of that is down the people who have taken time to tell us their stories as users of services, attend one of our meetings, send us an email or comment on our blogs.
We are looking forward to our next National Stakeholder Group meeting on Tuesday 19 June, where the project team will summarise what has happened since the group last met in February, before holding a discussion on next steps. In addition to members of the Stakeholder Group being invited, we will again be making places available for anyone who wants to come along and participate, or simply observe.
Look out for details of how to secure your place very soon. Minutes from the first meeting are available to read here.
Next week will see two other important meetings take place – our Expert Group, bringing together leading identity assurance specialists, will hold its second meeting on Monday 21 May, followed by our Programme Board, which has oversight on governance, on Wednesday 23 May.
A minute from the first Programme Board is available to read here and papers from these forthcoming meetings will be published in coming weeks.
We are very pleased that Gavin McLachlan, the University of Edinburgh's Chief Information Officer and Librarian, has accepted an invitation to chair the Expert Group.
Gavin said:
"I am honoured and excited to chair the Expert Group for the Online Identity Assurance programme. This is a critical project for the future of Scotland and its digital public services. It is also a challenging project as we look to find solutions to the access of public services containing both public and personal information, especially in a changing and more demanding public and legislative climate regarding the use and security of personal data."
Finally, thanks for reading this blog. Is there a topic you would like to see covered in future? Let us know.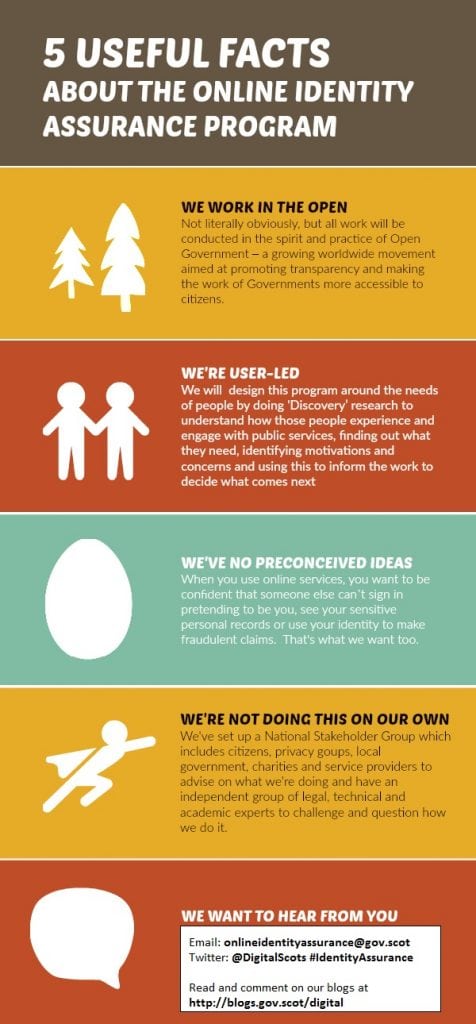 See our earlier blog posts:
Tags: assurance, digital identity, identity
Comments