Marine Scotland
The Latest News from Survey 1218S
September 5, 2018 by Marine Scotland Communications No Comments | Category Collaborations, Fisheries, Marine Scotland general, Marine Scotland Science, Marine Scotland Surveys, Research Vessel Surveys
It is 3am and we're on our way to Rosemary Bank. We've had three nights of towing the chariot across the different depths at Faroe Shetland Sponge Belt and three days of sampling the fish and benthic fauna with trawls, and we've seen lots of sponges, bizarre invertebrates, and fish. We've recorded lots of video of the sea bed and it's building up a good picture of the depths at which the narrow band of sponges starts and finishes.
We're now looking in a little bit more detail at some of the data we have gathered whilst we're steaming to Rosemary Bank; so we will have a better idea of where to deploy our drop camera on the second leg of the survey which will be revisiting the sponge belt for a closer look.
We should arrive at Rosemary Bank in a few hours, hopefully with enough time to complete a chariot tow before our shift ends. The weather forecast doesn't look too good for the middle of this week- the swell is expected to increase to 3.5m, which will be too high to operate the chariot effectively. It's likely that we will lose one night of survey time due to this, so we will need to re-evaluate our plans.
We have begun our depth stratified trawl transect that will take us from the warm NE Atlantic waters of the Rockall Basin, up and over the Wyville Thomson Ridge and then down into the Arctic-influenced water of the Faroe-Bank Channel. We have begun the transect some 30 miles east of Rosemary Seamount and have so far undertaken a line of trawls at depths of approximately: 1800m, 1600m, 1200m and 1200m working north. We have encountered diverse assemblages of fish at each depth, two of which are shown here:
Fish assemblage from 1200m depth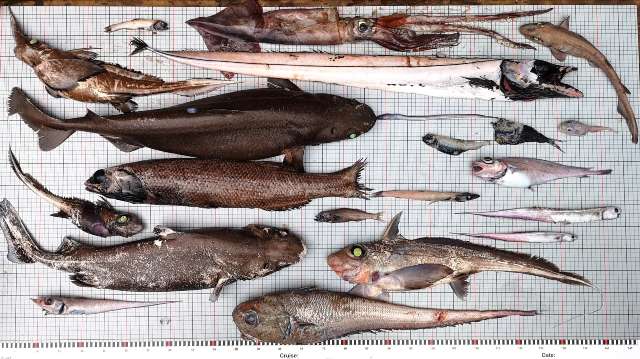 Fish assemblage from 1800m depth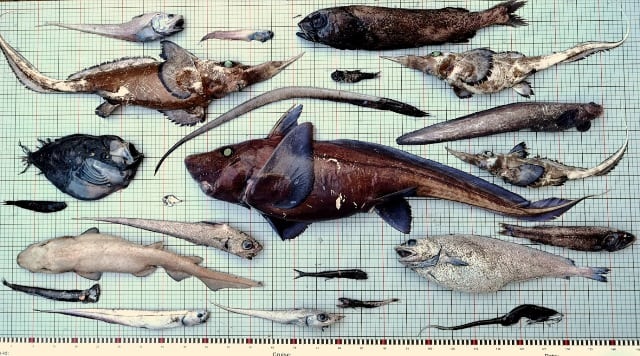 Further Information:
Tags: benthic fauna, Faroe Shetland Sponge Belt, fish, JNCC, Marine Scotland, Marine Scotland Science, MRV Scotia, MSS, Rockall Basin, Rosemary Bank, sampling, science, Scotia, Survey, trawling, trawls, Wyville Thomson Ridge
Comments