Marine
Smolt Trawl Survey with the Sunbeam
May 16, 2019 by Marine Directorate Communications No Comments | Category Fisheries, Marine Directorate general, Marine Directorate Science, Marine Directorate Surveys, Research Vessel Surveys
MFV Sunbeam FR487
Survey: 1419H Programme
Duration: 10-19 May 2019
Scientific Gear:
Smolt trawl, Thyboron type 15vf pelagic trawl doors (6m2), Dyneema sweep rig and Fenders (300mm diameter with 215kg buoyancy) attached four per side of the trawl.
Video frame/box incorporating pit tag detector.
Self-contained underwater camera systems.
New Åkrehamn Trålbøteri fish-lift aquarium system incorporating grid box and aluminum live fish aquarium.
Objectives
To undertake a smolt trawl survey in the outer Moray Firth, and elsewhere off the Scottish east coast, including offshore from the Firths of Tay and Forth.
Procedure
All trawl gear, video-frame, fish-lift aquarium and scientific equipment will be transported to Fraserburgh and rigged aboard the MFV Sunbeam. The vessel will set sail and make passage to commence the smolt survey on the Scottish east coast or, if the weather is unfavourable, in the Moray Firth area.
Trawl Gear
The smolt trawl is designed to operate with its headline held at the surface and the footrope at approximately 12 m depth. The headline and top sweeps of the net are supported using 50 x 200 mm floats (headline), 2 x 1400 mm long fender floats at net quarters and 1 x Polyform A6 fender buoy + 2 x 1400 mm long fender floats per side (top sweep). The trawl doors are designed to fish just below the surface (max depth 50-60 m) and buoyant Dyneema rope used throughout the sweep rig. The video frame is attached to the trawl using netting with supporting bridles and made neutrally buoyant using a combination of 275 mm and 200 mm floats. (A rigging specification is given in Guidance Note 1.)
The fish-lift aquarium system will replace the video-frame system at the rear of the smolt trawl. It is a closed aluminum boat shaped aquarium and designed to produce the lowest possible turbulence inside and, therefore, allows the fish caught inside to swim unharmed and is an improved version of a fish-left aquarium designed by Holst and McDonald, 2000 (see Guidance note 2).
Trawling Plan
This survey will build on the successful 2017-2018 survey work in the Moray Firth and elsewhere off the Scottish east coast. The 2019 survey will further investigate the migration routes of salmon and sea trout smolts from Moray Firth rivers across the Moray Firth and carry out the second survey of smolts off the Firths of Tay and Forth (see main picture). There is also potential to investigate further offshore in informative locations. The net requires a minimum depth of about 40 m for operation and is deployed in an arc, or arcs, so that the ship wash misses the net.
Tows of two hours or less will be carried out with a cod end in place and smolts retained for genetic assignment to rivers and/or regions of origin. The by-catch will be recorded by species. The captured video and PIT tag recordings will be used to identify when fish were caught during the tows. It is also possible that the net will also be deployed open ended at times, instead of using a cod end, potentially for longer tows, but not providing samples for genetic assignment. A combination of tows with and without the cod end in place may allow survey work to be carried out for up to 16 hours a day.
If available, the fish-lift system will be deployed to retain smolts in better condition, and allow smolts, not required for sampling, to be returned alive to the sea after minimal contact.
Guidance Note 1. Smolt Trawl Rig Details
Trawl (4 panel constructed from PA netting)
• Mesh size (Full mesh in mm):
o Wings – 800
o Front/side panel sections – 800
o Lower cover/belly sections – 800
o Reducing 400-200-120-80-60 and end taper 40
o Straight extension – 40
• Frame lines and net opening
o Headline length – 70.2 m
o Side line length – 15.9 m
o Footrope length – 59.8 m
o Wing stretch length (nominal) – 62 m
o Trawl tapered body stretched length (nominal) – 69.6 m
o Straight extension stretched length – 8 m
o Fishing circle – 224 m
o Nominal net mouth opening at fishing circle (assumes meshes roped (hung) at 50% of full mesh size) – 844.8 m2.
Sweep rig and otterboards
• Sweeps – 150 m x 28 mm dia. Dyneema
• Backstrops – 15 m x 28 mm dia. Dyneema
• Headline/footrope extensions – 3m x 13mm long-link chain
• Otterboards – Thyborøn type 15vf pelagic otterboards:
o Surface area – 6m2
o Weight (each otterboard) – 1000kg + 200kg additional (8 x 25kg)
Flotation (headline)
• 50 x 200mm floats (each float 2.47kg buoyancy)
• 1 x Polyform (A2) H= 510mm Dia.= 300mm Buoyancy = 35kg
• Fenders (Blue Line JF2255):
o 1 per side at quarters – L = 1400mm Ø = 300mm buoyancy = 215kg
2 per side at wingends (attached to chain extensions) – L = 1400mm Ø = 300mm buoyancy = 215kg + 1 per side Polyform A6 buoy fender L = 111.8cm x Ø = 86.4cm buoyancy = 359kg
Guidance Note 2 – Fish-Lift Aquarium Schematic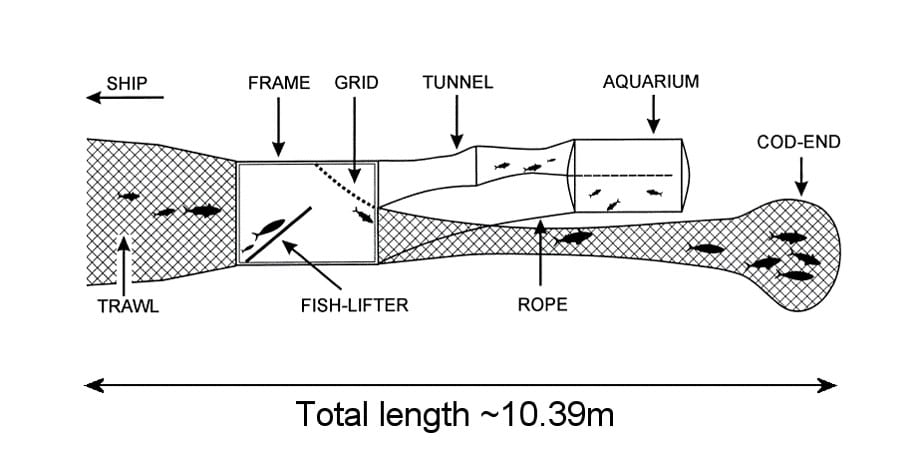 (Taken from J.C. Holst, A. McDonald/Fisheries Research 48 (2000) 87-91)
Tags: cod end, Firth of Forth, fisheries, Marine Scotland, Marine Scotland Science, MFV Sunbeam, Moray Firth, research, Salmon, sampling, sea trout, smolt, Survey, Tay, trawling
Comments