Marine
Monks, Megs and More…
May 20, 2019 by Marine Directorate Communications No Comments | Category Fisheries, Marine Directorate general, Marine Directorate Science, Marine Directorate Surveys, Research Vessel Surveys
The second leg of the Monkfish Survey (1219H) departed a sunny Scrabster on the MFV Genesis on Sunday 28th April. It was a 36 hour steam out to Rockall, which gave us plenty of time for some beauty sleep.  We then began fishing on Tuesday in some fine, calm conditions.
The aim of the survey was to sample the Rockall plateau for: monks, megrim, four-spotted megrim, and skates.  Plenty of all were caught, with some large "barn door" skates and monkfish making an appearance. We collected biological data from each species, which included: measuring the fish, sexing, and removing the otolith for later age determination.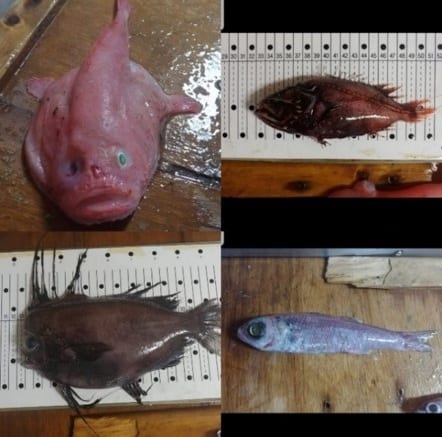 Some more unusual species were found during the sampling including: Sea Toads (Chaunacidae), Manefish (Caristiidae) and Bigeye (Epigonidae) – you can see a few pictured below.
Overall we completed 30 trawls (28 successful) during our six days fishing around Rockall. The Genesis' crew were exceptionally helpful, even assisting with measuring and collecting the biological samples! Pilot Whales made a brief appearance on our second last day, but they had moved off swiftly before cameras were yielded. We finished up our sampling on Sunday and started our long 30+ hour steam back, landing into a sunny but cold Ullapool on Tuesday 7th May in time for coffee and a bacon roll.
Further Information
Tags: anglerfish, Cod, demersal trawling, fisheries, fishing, ICES, Megrim, monkfish, research, Rockall, sampling, science, Survey, trawling
Comments