Marine Scotland
Nephrops on the East Coast – An Update
August 20, 2019 by Marine Scotland Communications No Comments | Category Fisheries, Marine Scotland general, Marine Scotland Science, Marine Scotland Surveys, Research Vessel Surveys
MRV Alba na Mara Programme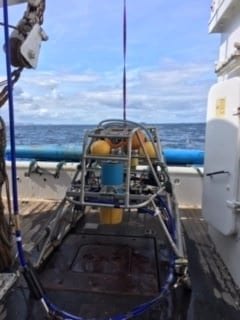 Survey 1319A
Duration: 8-24 August 2019
The annual Alba na Mara East Coast Nephrops Underwater TV survey returns once again.  A very busy week has been spent in the Firth of Forth working under challenging conditions at times, but despite 40kt easterly gales plenty of headway was made with the planned stations.  Poor water visibility, which was down to a mix of tide, commercial fishing operations, marine traffic stirring up the sea bed as well as increased fresh river water input from recent heavy rain, meant additional stations were undertaken where necessary.
Fishing operations were undertaken within each sediment type of the Forth.  A range of biological and morphometric data was collected from each Nephrop caught.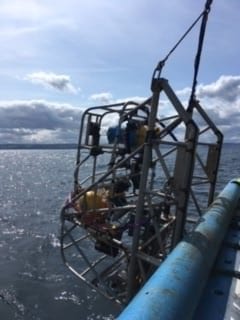 The next week will be spent in the Moray Firth where the survey will continue to obtain estimates of the distribution and abundance of Nephrops burrows using towed underwater camera systems.
Further Information:
Tags: Alba na Mara, East Coast Nephrops Underwater TV survey, Firth of Forth, fish, fisheries, Marine Scotland, Marine Scotland Science, Moray Firth, MSS, nephrops, research, sampling, science, Scotland, Survey, towed underwater camera, underwater tv
Comments