Marine
Exploring the Effects of Climate Change on Marine Food Webs
October 29, 2019 by Marine Directorate Communications No Comments | Category Fisheries, Marine Directorate general, Marine Directorate Science, Publications, Research Vessel Surveys, Scottish Coastal Observatory
Three researchers (T. Regnier, F. M. Gibb and P. J. Wright) from Marine Scotland Science (MSS) have had their paper entitled "Understanding temperature effects on recruitment in the context of trophic mismatch" published in the journal Scientific Reports.  The paper looks to address the impacts of climate change in Scotland's marine environment and fish stocks.
The study explores the effect of temperature changes on the interaction between sandeel, a key forage fish for seabirds and marine mammals, and their copepod prey in Scottish waters. Anticipating the effects of climate change on marine ecosystems and fish stocks requires the identification of mechanisms that affect food webs.
In fish, the larval period can be a critical life-stage that determines the strength of recruitment to the stock. For species, like sandeel, that hatch in winter early survival appears dependent on initial food availability and, hence, the degree of synchrony with their prey.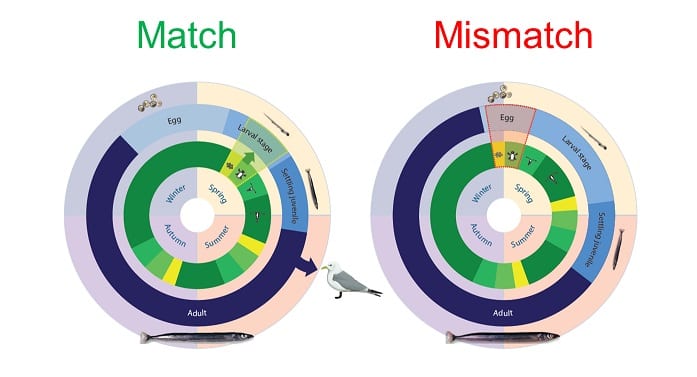 The authors used a modelling approach incorporating MSS data to predict the likely consequences of two distinct climate change scenarios on this key marine food chain interaction. The data used originated from the our Scottish Coastal Observatory (SCObs) monitoring site at Stonehaven, and from yearly winter assessment surveys conducted on our Marine Research Vessel (MRV) Alba na Mara.
Speaking of a particular highlight in the paper, lead author Thomas Regnier said: "This research sheds new light on the way that temperature affects recruitment in sandeels; where temperature acts indirectly on food availability, as opposed to a simple direct effect of temperature on sandeel recruitment."
Further Information:
Tags: Alba na Mara, climate change, copepod, environment, fisheries, food web, marine mammals, Monitoring, research, sandeels, science, Scientific Reports, SCObs, Scottish Coastal Observatory, Stonehaven, water temperature
Comments