Marine
British Science Week 2021
March 5, 2021 by Marine Scotland Communications 1 Comment | Category Blue Carbon, Fisheries, Marine Directorate general, Marine Directorate Science, Marine Litter, Oceanography, Publications, Science, Technology, Engineering, Maths_STEM
To celebrate British Science Week 2021 Marine Scotland has produced some new videos to put the spotlight on the importance of our seas, oceans and freshwaters. So join us to learn more about the seas and climate change and to find out what it's like working in the lab. These talks are suitable for Secondary 2 to 6 pupils.
The programme includes:
We'll also be highlighting some of our online resources throughout the week, including the Scotland's Marine Assessment 2020 portal which provides an up to date view on the health of Scotland's seas.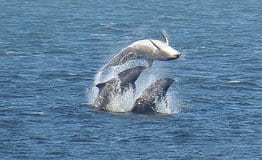 Read our Topic Sheets which include subjects ranging from aquaculture to marine mammals and many more.
Find out about the People who make science happen, find out how they do it here. And check out our Marine Scotland blog which has a range of updates on our science including Sharks, skates and rays, Protecting and researching our seas, New Coral Species on Rockall among many others.
You can also visit our education zone for a range of fun and informative materials
Get involved in British Science Week  #BSW21. The Year of Coasts and Waters 2020/21 is an opportunity to showcase Scotland's coasts, rivers, canals, lochs and inland waters and the work we are doing to protect our marine environment and wildlife. Join the conversation #YCW2021
Tags: British Science Week, climate change, environment, Marine Scotland, Marine Scotland Science, oceanography, science, STEM, Year of Coasts and Waters
Comments