Digital
Online Identity Assurance – Collaborating through OIX
November 28, 2018 by Digital Identity Scotland No Comments | Category Digital Identity, Digital Public Services
As we have documented in some of earlier posts, the process of developing a common approach to how people can prove their identity for accessing government services online in Scotland is a complex one.
Wherever you look, there are questions to be answered: What information do different agencies need to serve the needs of their customers? What technical infrastructure needs to be in place to provide 'a common approach' that is safe and secure? As digitisation of government services increases, what needs to be done to make digital government services open and accessible to all?
The Online Identity Assurance project team has been working for the last year to get the answers we need to these (and lots, lots more) questions, through extensive engagement with people, organisations that provide online government services and private organisations with interests in identity assurance.
For the next phase of our work – the Alpha – the team is very excited to have linked up with the Online Identity Exchange (OIX) in order to bring in more skilled input at what is a pivotal stage of our programme. You can read more about our link-up with the OIX here.

On 21 November, the team hosted a 'planning for Alpha' workshop with more than 30 people in attendance, to explore key issues around two streams of work that are intended to designed, prototyped and tested during the Alpha phase. We were delighted to welcome representation from a range of bodies, including representation from the Post Office, the UK Government's Cabinet Office, the Improvement Service, Yoti and Mydex.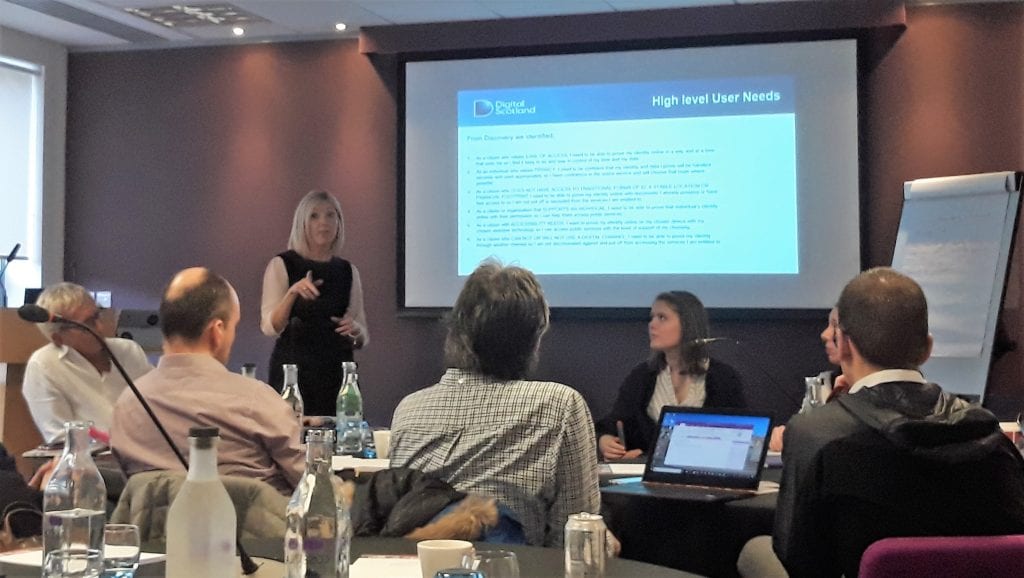 Much of the workshop was focused on understanding what needs to be done to fully explore the two identified streams in Alpha. This included some really useful discussion about participants' expectations for what they aim to contribute, how to collaborate effectively and how success could be measured.
The first stream will be about developing two end-to-end journeys, taken by people using services, that can be shown to work as a 'proof of concept'. One will centre on the process of applying for a Child Disability Living Allowance – a benefit that will become the responsibility of the new Scottish social security system in 2020 – with the other relating to the process of applying for the single occupant Council Tax deduction offered by local authorities.
The second stream of the Alpha will be about identifying what standards need to be in place for service providers, and operability of digital identities between services. Our team is benefiting from the input of colleagues who are involved in emerging work on standards within the Cabinet Office and the Department of Digital, Culture, Media and Sport.
The workshop marked the latest milestone in what has been a busy and productive year, and is already being followed up with partners collaborating further online and planning follow-up meetings.
As the project moves into 2019, the Alpha phase is expected to run until May 2019, with the aim of moving us towards answers for more and more of the questions that this work has generated.
The team is always happy to hear feedback from anyone with an interest in this work. Please get in touch with us at onlineidentityassurance@gov.scot and follow the discussion on Twitter at #IdentityAssurance.
Finally, further to our last blog post, presentations from our most recent OIA Stakeholder Group meeting featuring members of our project team and Kate Forbes MSP, Minister for the Digital Economy, are now available to watch. Please take some time to watch and leave us a comment on YouTube.
Tags: assurance, digital identity
Comments