Digital
Digital Identity Scotland – Workshop insight
February 28, 2019 by Digital Identity Scotland No Comments | Category Digital Identity, Digital Participation, Digital Public Services, Scottish Approach to Service Design
Graduate Fast Streamer Madeleine Fleming has been working with the Digital Identity Scotland team to support the design of the team's programme for the last six months. As she prepares to leave the team at the end of her placement, Madeleine reflects on one of her final tasks – to deliver a service providers workshop.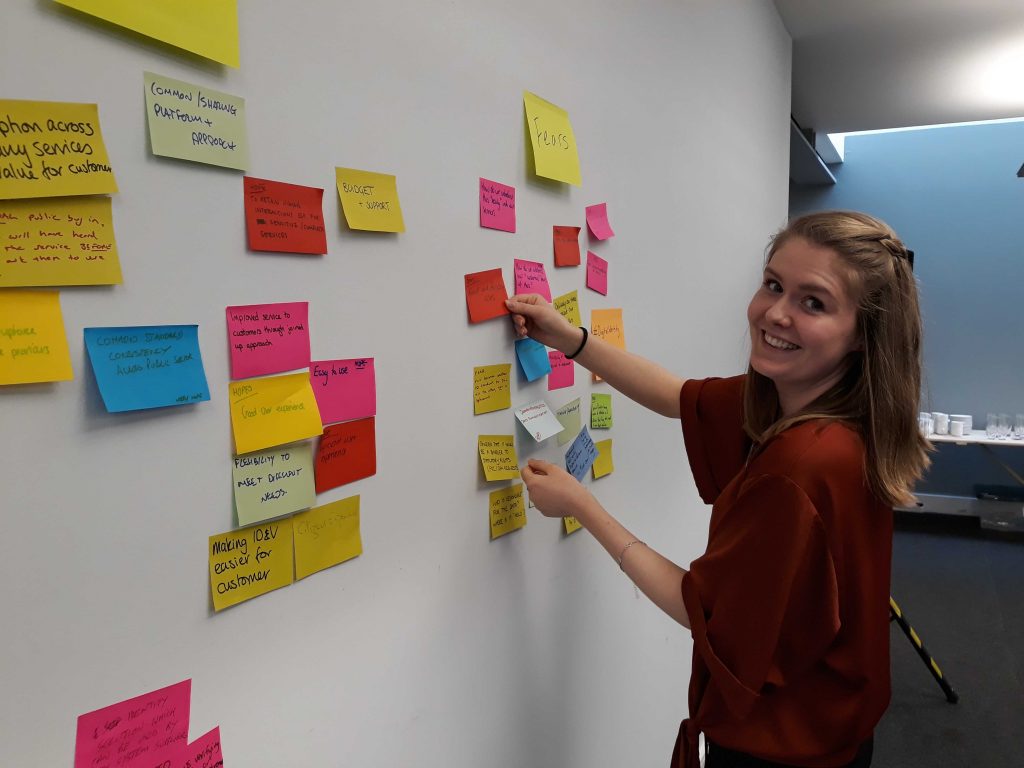 When the idea of running a workshop to engage with public service providers was first floated, I could absolutely see the benefit of the idea, but it definitely made me a little apprehensive. For me, planning this workshop was a big personal challenge. I've done very little public speaking outside of the supportive environment of academia, and I'd never run a workshop. However, as a member of the UK Government's Digital, Data and Technology Fast Stream, I've been lucky enough to attend lots of well-run workshops over the last six months, so I had some great examples to work off.
The key thing which stuck out to me from the workshops I'd attended was how effective (and fun! – for me at least) working with Post-Its was. The act of noting something down and sticking it up creates a way for discussion to move past points without trying to 'solve' them then and there. This makes Post-Its perfect for this kind of information-gathering workshop, where the aim is to find out about problems and inefficiencies so that they can inform a long-term programme, not to reach conclusions about how to fix those issues then and there.
After making the decision to format the workshop around group exercises Post-Its, the rest became surprisingly easy. As part of a multi-disciplinary team, I was able to bounce ideas around and seek suggestions for topics from colleagues – as a programme which genuinely thrives on the input of stakeholders, we're never short of questions to ask. Really, the tricky bit was just ensuring we were asking everything in the right way, to get the most thorough responses from our participants.
We needn't have worried though. On the day, all of our attendees were incredibly engaged and enthusiastic, for which I can't thank them enough. The insights with which they have provided us are already helping to shape our Outline Business Case and inform our user research, and several organisations have volunteered to do further work with our team to dive deeper into how their current identity verification practices are carried out. This engagement is absolutely invaluable to us as we strive to design our programme's work around those whom it will benefit the most – both users and service providers.
I'll be able to take forward the skills and learning I've gained from hosting this workshop into all my future roles, regardless of what and where they may be. This type of stakeholder engagement and collaborative working is relevant in all areas of Government, and I'm very grateful to have been part of such a supportive team who allowed me the space to lead and gain this experience.
Contact the team at DigitalIdentityScotland@gov.scot.
Past blog posts:
• Online Identity Assurance (including our Programme Plan)
• What have we been doing? Come see for yourself
• Come to our Show and Tell
• Welcoming expert and stakeholder input
• Focus on technical
• Approaching the next phase
• Listening to your views
• An open approach
• Pre Alpha
• Working with OIX
• Join us in our proof of concept stage
• Opportunity to attend next National Stakeholder meeting
• Thank you stakeholders
• Collaborating through OIX
• Voices: Ruchir Shah
• See you in 2019
• Introducing Digital Identity Scotland
• Understanding the services' perspective
Tags: digital identity, identity
Comments